How to Get the Best Large Group Photos
Your special event will be filled with family, friends, and love. A great way to capture the memories of this day is with a large group photo. However, getting everyone organized and looking their best can be a challenge. Here are 10 tips for how to get the best large group photo at your next wedding, mitzvah, family reunion, birthday party, or multi-generational portrait session.
Plan Ahead
Talk to your event coordinator, venue manager, photographer, and family members before the event day to determine the location and time for the photo. Advise your guests in advance as well so they can dress appropriately and be ready on time. Give a reminder of the group photo a day or two before the event. This will ensure everyone knows where to be and when.
Pin Down Group Size
Once your RSVPs are received, share your final group size with your photographer. Remember that large groups take more time than small groups. Two groups of 10, for example, are easier to accommodate than one 20-person group. Groups with fewer than 12 people work the best.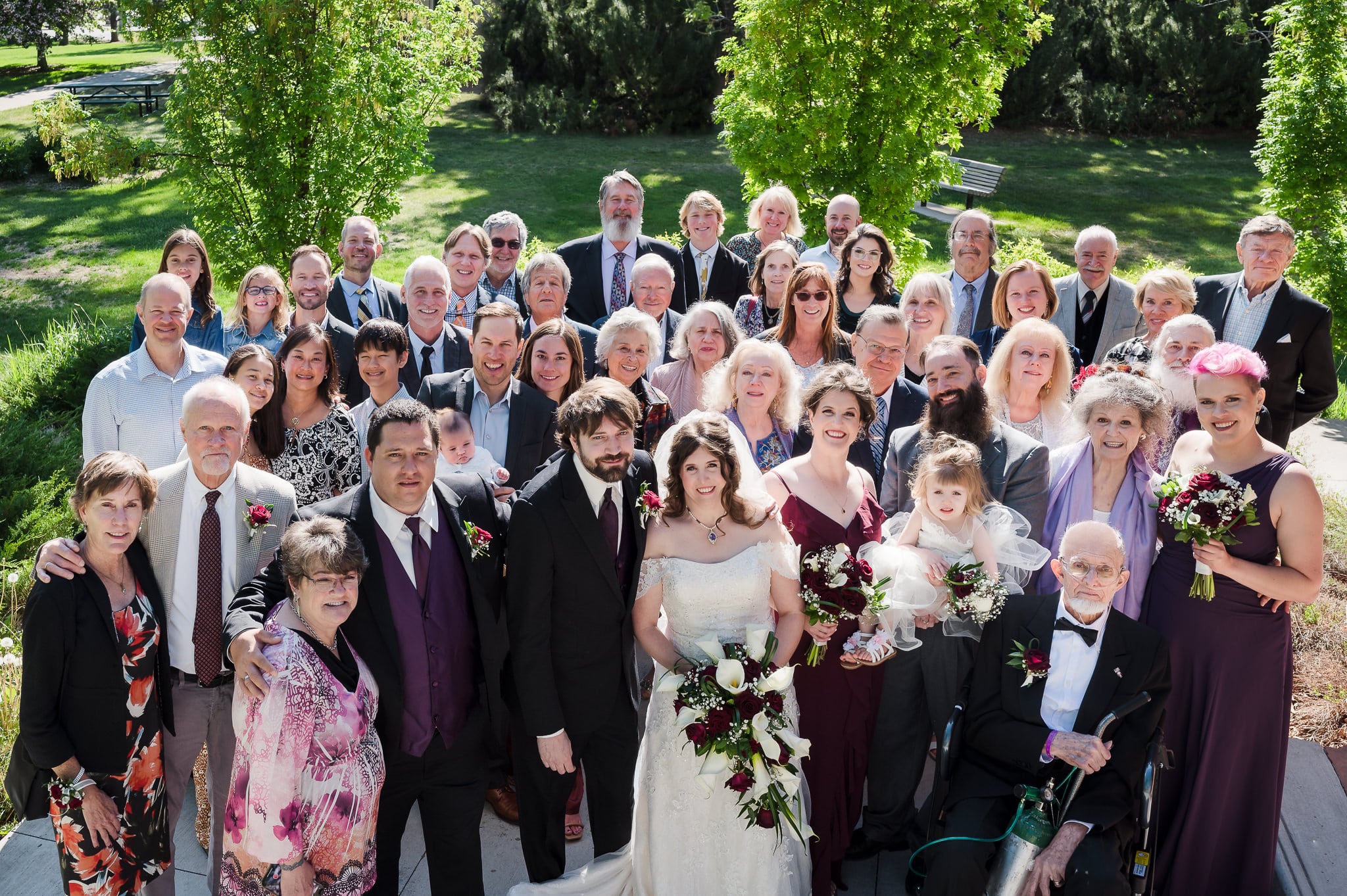 Choose Your Location
Look for an area with good lighting and plenty of space for everyone to stand or sit comfortably. Make sure the light is even, not dappled, and behind your group to prevent squinting in the photos.
For guests with mobility challenges, make sure the ground is level and accessible. Check outdoor spots for the watering schedule, soggy flooded spots, holes, and anything else that may trip attendees up or damage their shoes.
Also, scope out the venue for balconies, steps, or risers that make seeing everyone in the photo easier. Shooting down from a balcony makes a great photo. Staggering guests on steps or risers also maximize the visibility of everyone's face in a photo.
Some venues include a separate area nearby with a natural element such as a water feature to provide a beautiful and unique backdrop. This makes your group photos stand out from the other events of the day but still feel cohesive with the overall look of the venue.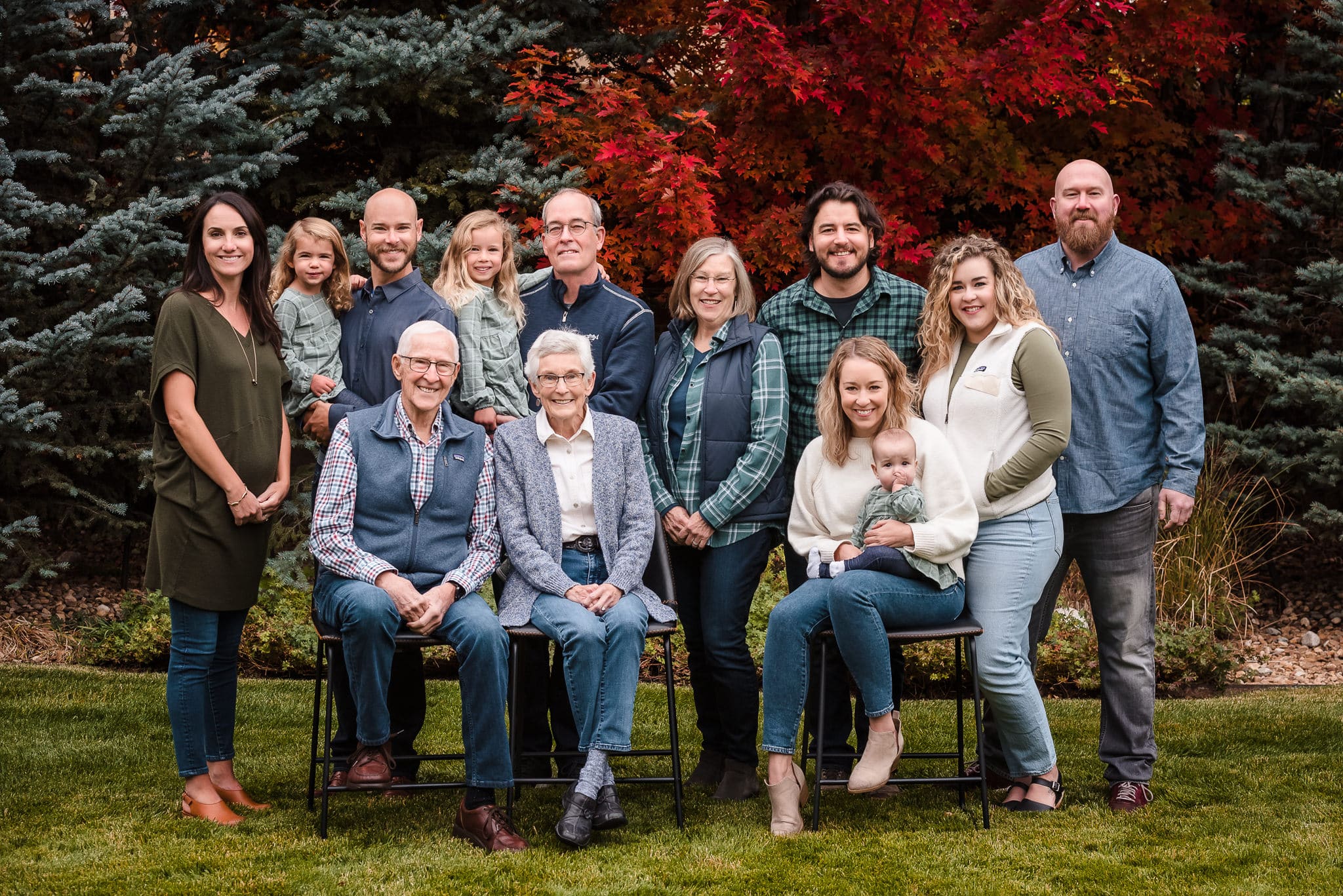 Determine the Timing
Save time by selecting a space in proximity to your event vs driving to another location. The best way to ensure you capture everyone in your party is to make the process convenient.
At weddings, this is typically immediately after the ceremony and before the family photos.
While some DJs offer to do an everyone photo during the reception, the venue space and the timing aren't conducive for getting everyone together. Guests sometimes feel inconvenienced if they've already settled into their seating arrangements. Also, the layout, lighting limitations, and vantage issues sometimes limit or even prevent taking a large group shot.
For multi-generational photos, photographing small family groups first helps make up for any delinquent arrivals. As they say, "timing is everything," so use the time wisely and make the group photo the last.
Designate a Point Person
Appoint one family member to gather everyone for the photo and keep things organized. Ideally, this is someone who is responsible, outgoing, and has a commanding presence. A clear and persuasive voice is an added bonus. Finally, this person should know the parties required in the group photo and be excited about keeping the day's events on track.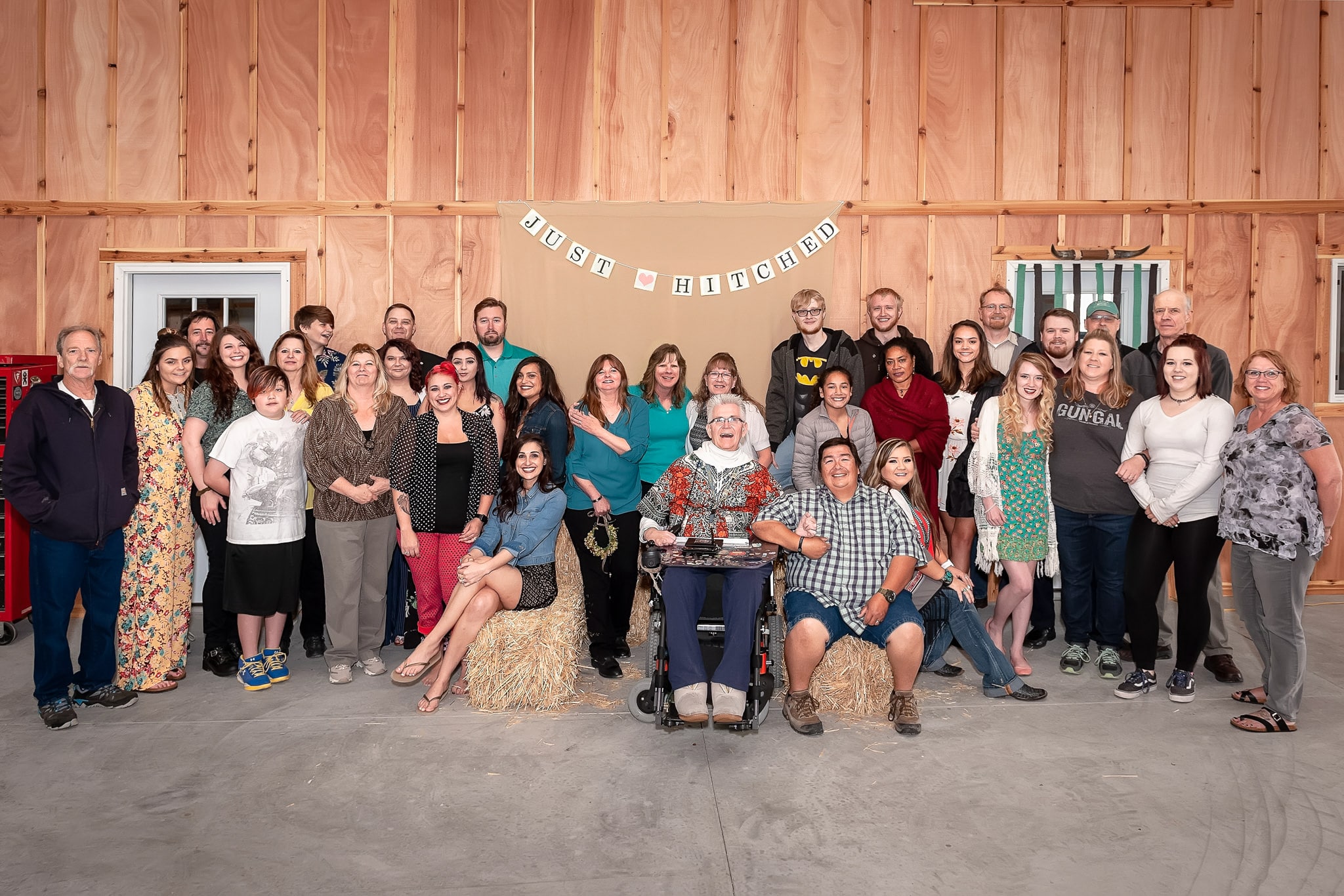 Pro tip: Leave Some Space
If you're planning on printing a holiday card of your group photo, leave a little breathing room in your photo.
For example, the space at the top of the photo gives some space for copy text.
Leverage Your Photographer's Experience
As mentioned, you will want to let your photographer know that you would like a large group photo in order to bring the correct gear for a quality image. They may bring a tripod to help keep the camera steady and ensure a sharp, clear photo. Other gear may include a step ladder, special lenses, and filters.
Your photographer will serve as the director of the scene. Similar to movie directors, they will guide people into positions that create a pleasing composition. Additionally, they will arrange people strategically. Often they will position taller people in the back and shorter people in the front to make sure everyone's faces are visible.
Keep Things Simple
The phrase "less is more" applies to large group photos. Too many props or distractions overcomplicate the shot. Instead, keep the focus on the group vs extra things that just take up space. You want to be able to identify the people, not spend time looking for them as in a "Where's Waldo" book.
Budget Enough Time
Large group photos take approximately 10-15 minutes to complete or longer, particularly in the absence of advance preparation. For indoor situations, additional time may be needed to set up and break down light stands and flashes.
Once everyone is rounded up and arranged, several photos will be taken in a row to increase the chances of getting a good shot where everyone looks their best.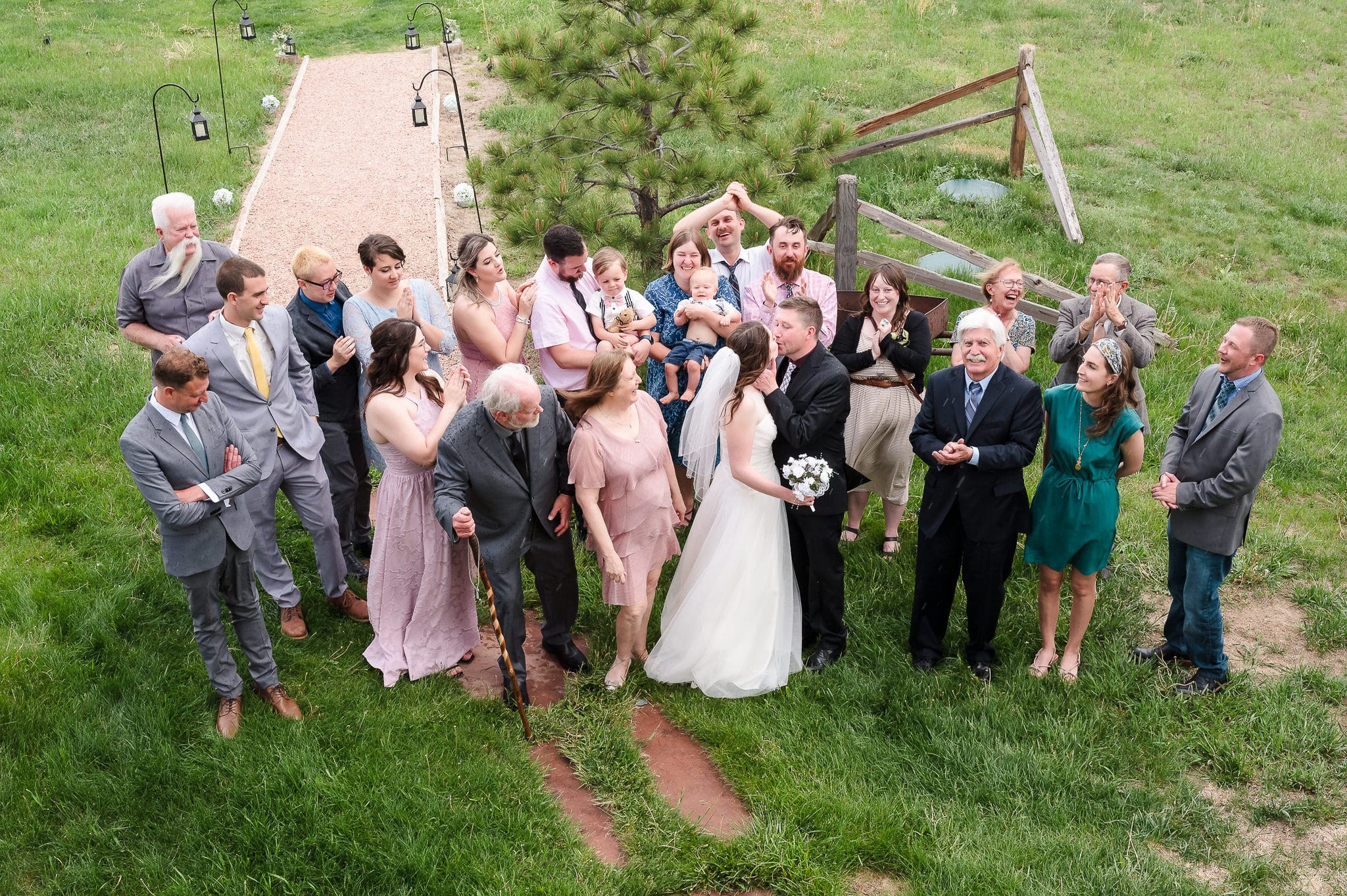 Keep it Serious, Yet Fun
Take a posed, serious large group photo to capture the moment and create a formal photo.
Then ask everyone to do something fun like strike an editorial pose, make a face, or at weddings react to the bride and groom kissing.
Explore Editing Options
Be sure to ask the photographer about their group photo editing process. Confirm whether there would be any additional fees for fixing closed eyes or swapping heads in photos. And, if someone is not present at the event and you would like to add them to the photo, ask the photographer for an estimate from a pro-retoucher who specializes in this advanced type of editing.
Share and Enjoy
By following these tips, your large group photo may end up being your favorite photo of the day. Be sure to share your picture on your social channels, potentially print and display it in your home, or even present it as a gift to your family. Most importantly, take time after your event to enjoy the memories that you've captured.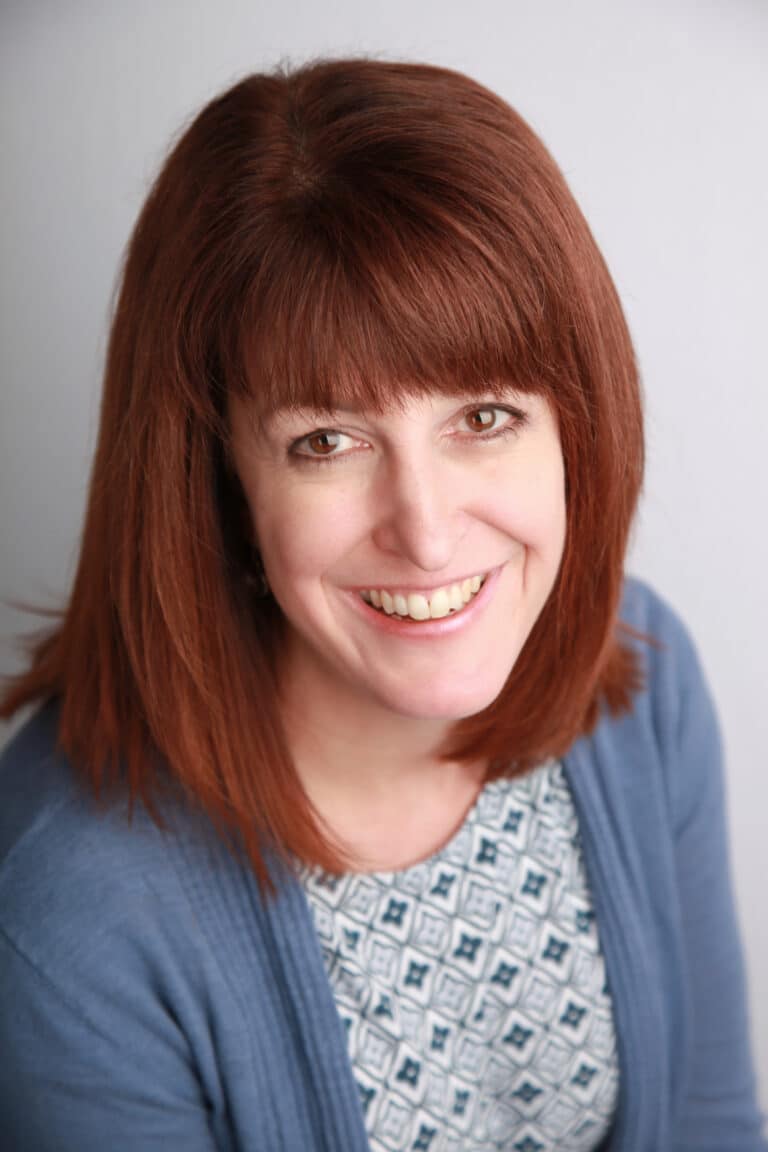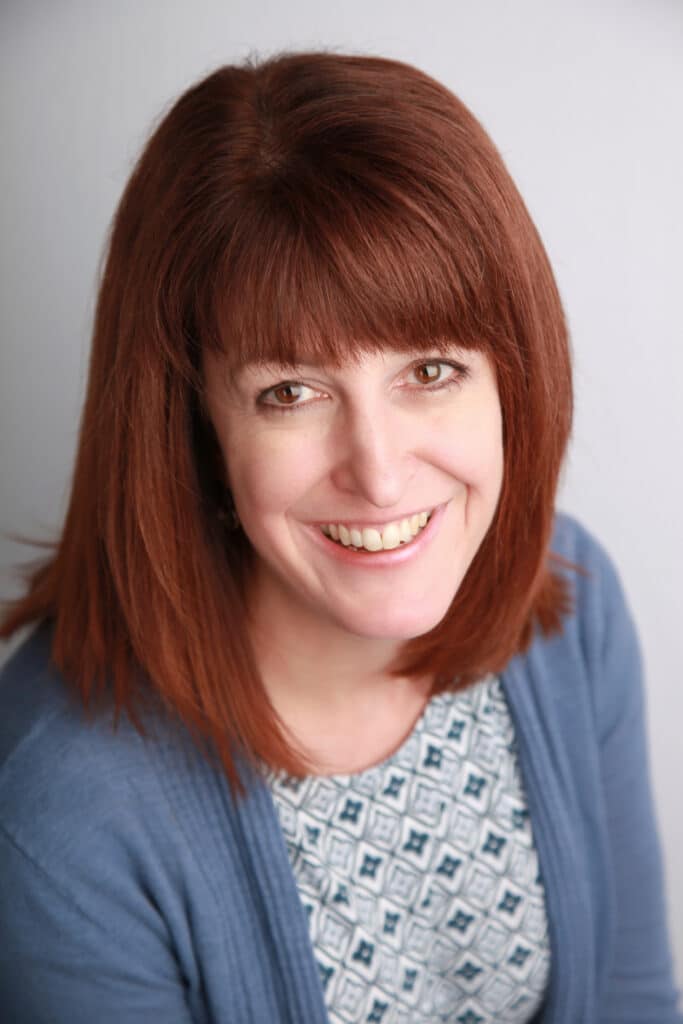 Looking for a Photographer in Colorado?
I'd love to have the opportunity to work with you!