Family Portraits with Dogs – 10 Tips
This post is not sponsored, but you will find affiliate links on this page. The price you pay as a consumer does not change, but I may make a small commission based on your purchase.
You've booked a photo session and want to include all your family members, even the furry ones. However, you may worry your puppy won't behave, pay attention, or sit still during your session. Get great family portraits with dogs with these ten tips.
Assess Your Dog's Personality
Just like some people are shy, some dogs may not like being photographed or just being around people in general. Consider what length, location, and type of photo session make sense for the well-being of your dog. Think about the time, place, number of people, noise, and any special quirks your dog might have and how those will add or detract from your session.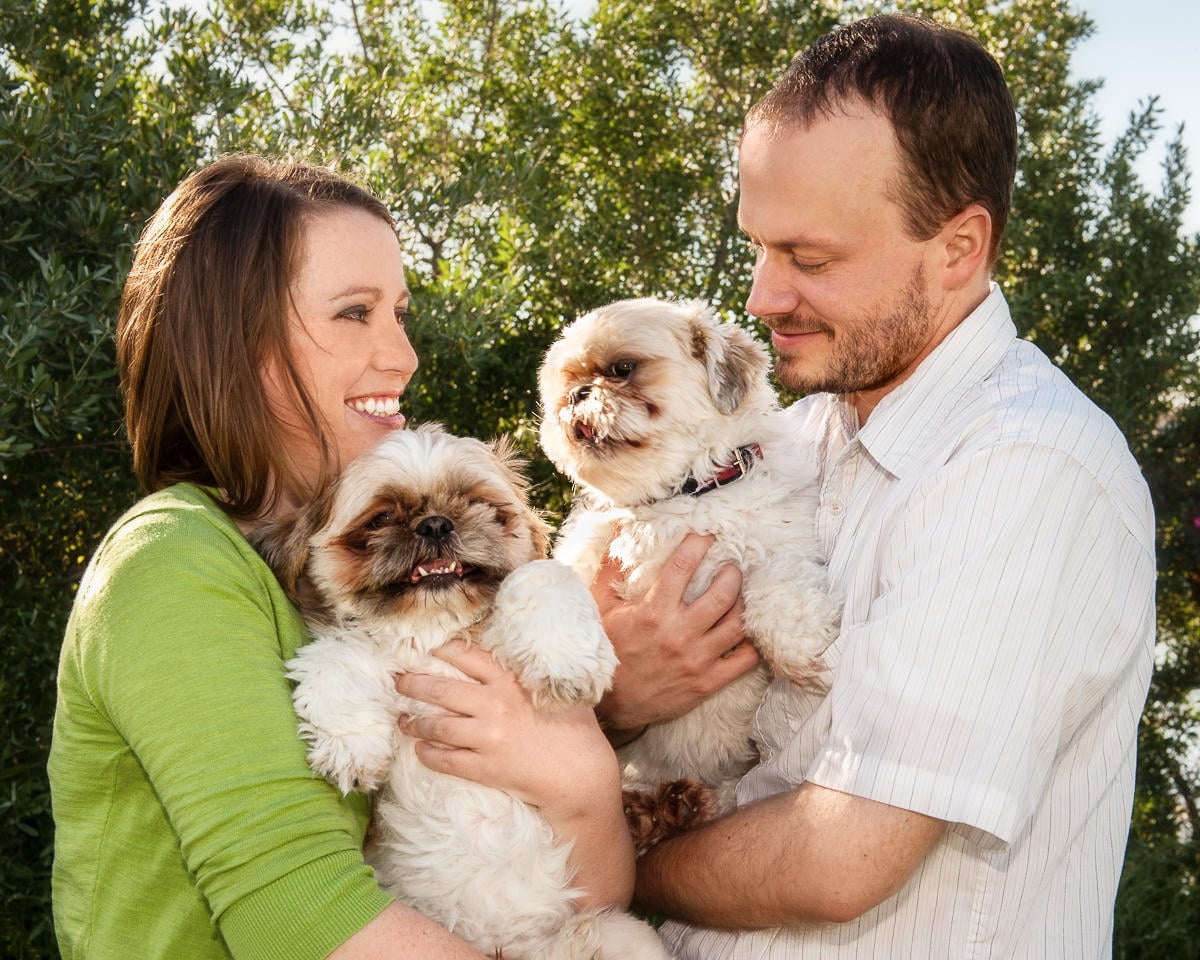 Choose a Dog-Friendly or Familiar Location
In Colorado, we are lucky to have many parks and outdoor spaces that welcome and allow dogs. There are even dedicated dog parks in the area. Many of these locations offer great lighting and the freedom for you and your dog to move around.
Your dog may even have a favorite park or even a spot in your backyard that would provide a soothing, comfortable, and familiar location.
If in a public space, check on any leash requirements and any other requirements for dog owners. If yes, bring a nice-looking leash for your session.
With help from your photographer, you can hide the leash in the scene by bringing your family in closer and/or adjusting hand positions.
If you're worried about the leash showing, many times for a small retouching fee, the leash can be digitally removed from the photograph.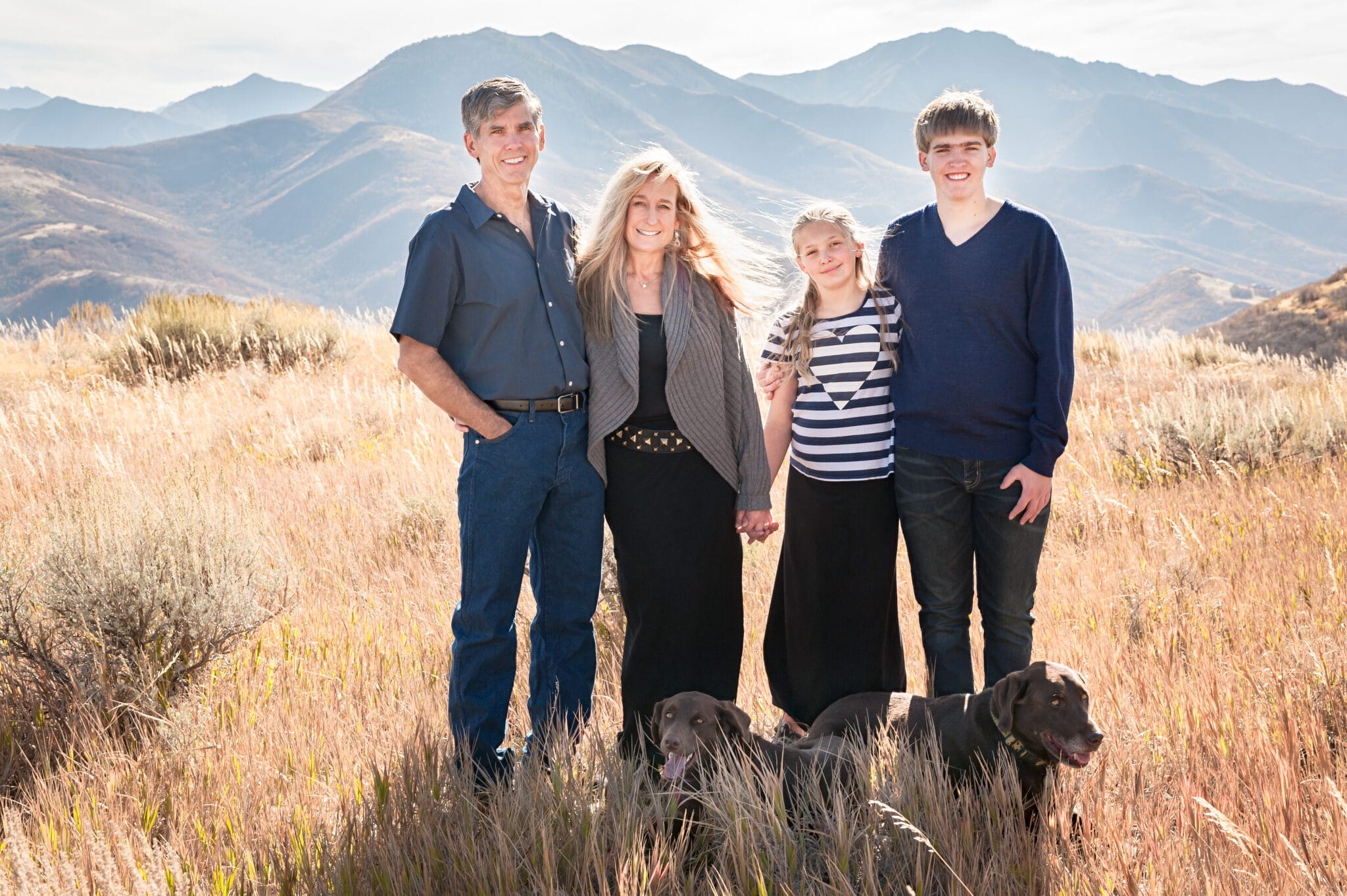 Time Your Session Appropriately
Your dog will unlikely show the best behavior during your entire session. Think about the length of your session and consider starting with your dog shots first and letting them go off to explore later. You may even want to bring along a family friend familiar with your dog who can walk or play with your dog while the rest of your family finishes up with the photo session.
Groom Your Dog Beforehand
Most dogs love being active and somehow always find the best muddy spots for play. Be sure to clean your dog beforehand and comb their hair before getting their photo taken.
During the session, appoint one family member with authority to ensure the dog does not wander off and get muddy or dirty.
Brush Up on Commands
In the time leading up to your session, practice commands with your dog like sit, stay, and down. Additionally, if your dog knows any special tricks be sure to practice those, too, since they can make for great images.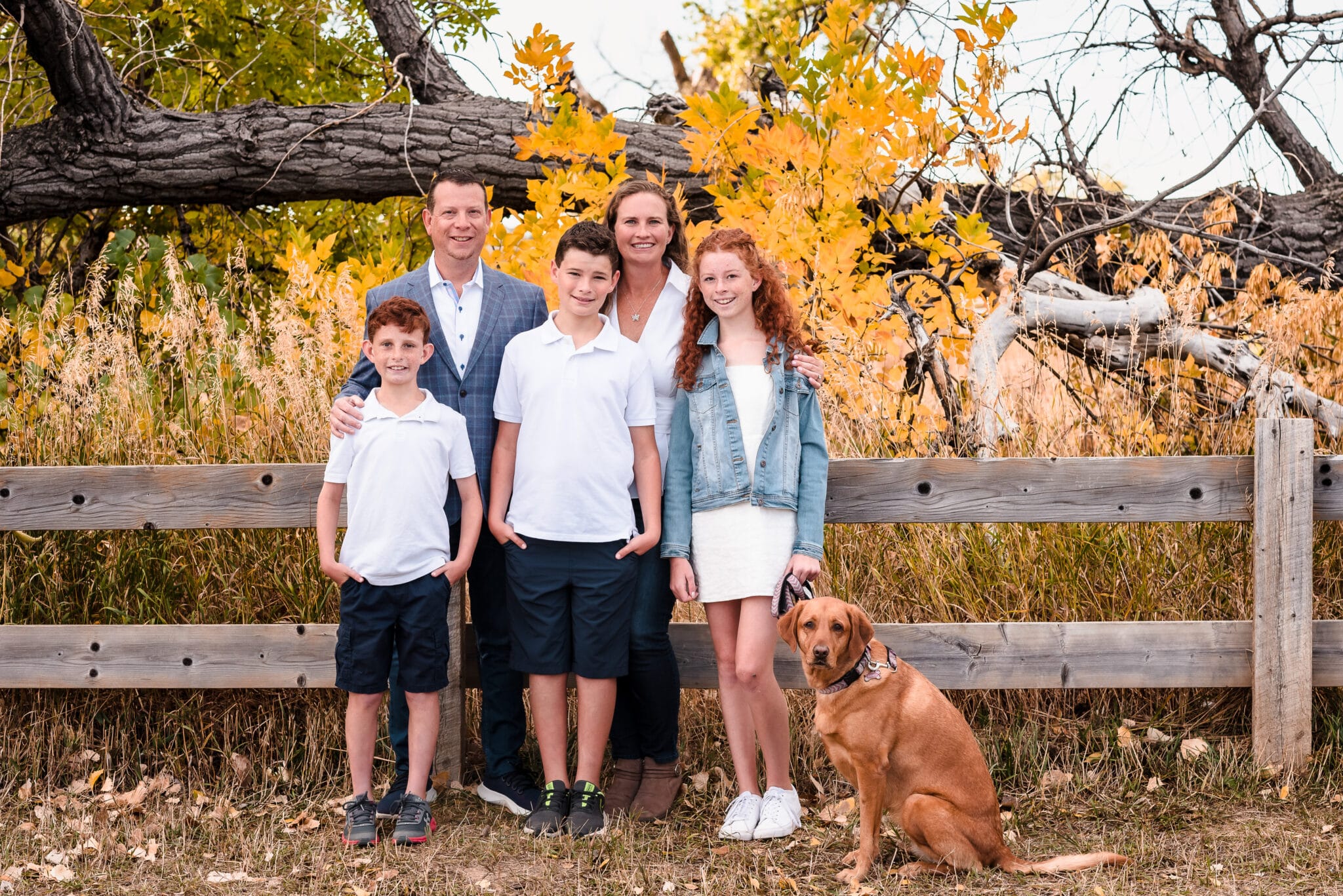 Work Off Some Energy
To tone down some of your dog's wildness, find a way to get some energy out beforehand. Take a long walk or jog with them or consider having them spend the day before the session at a daycare to play with other dogs. Exercise before your session helps your dog relax and be more focused.
Stay Relaxed
Most dogs pick up on and are sensitive to people's moods. The calmer and more positive you are, the more you will put your dog at ease during the photo session. Don't stress over whether the session goes perfectly. Instead, go with the flow, and your dog will pick up on your attitude.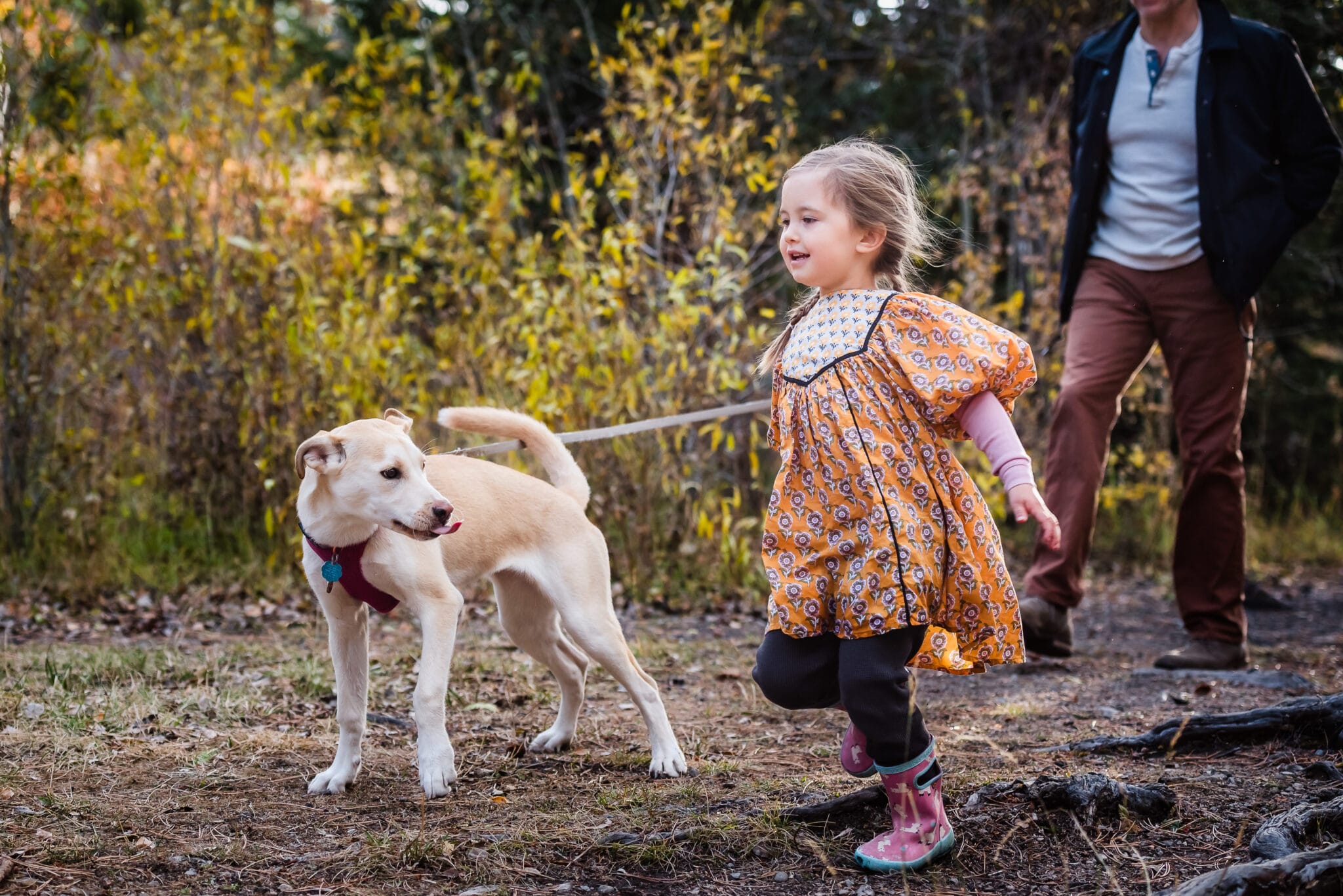 Bring Treats and Toys
Be generous with rewards for good behavior. Bring a bag of your dog's favorite treats as an enticement to obey commands and look at the camera. Just don't feed them too much beforehand or they may not be interested.
You may want to bring along your dog's favorite toy, but keep it hidden until later in the session as a last resort. Sometimes toys can distract dogs to the point where they lose all focus on the session.
Let Them Express Personality
Let your dogs be themselves! Instead of coaxing your dog into unnatural poses, let them move around in their element. Put an arm around them or pet their fur to get them into the scene. Physical contact helps your dog feel comfortable and is a great way to show off their personality and relationship with you.
Make sure your photographer captures a mix of posed and relaxed photos. Take advantage of and capture candid moments when kids and dogs let themselves get lost in the moment and forget they are being photographed.
Dress with Dog in Mind
Consider your dog when planning outfits for the family. Choose colors that complement their fur. If your dog sheds, avoid darker colors that show their hair. Take along a lint brush, just in case, to remove hair on all humans in the photo.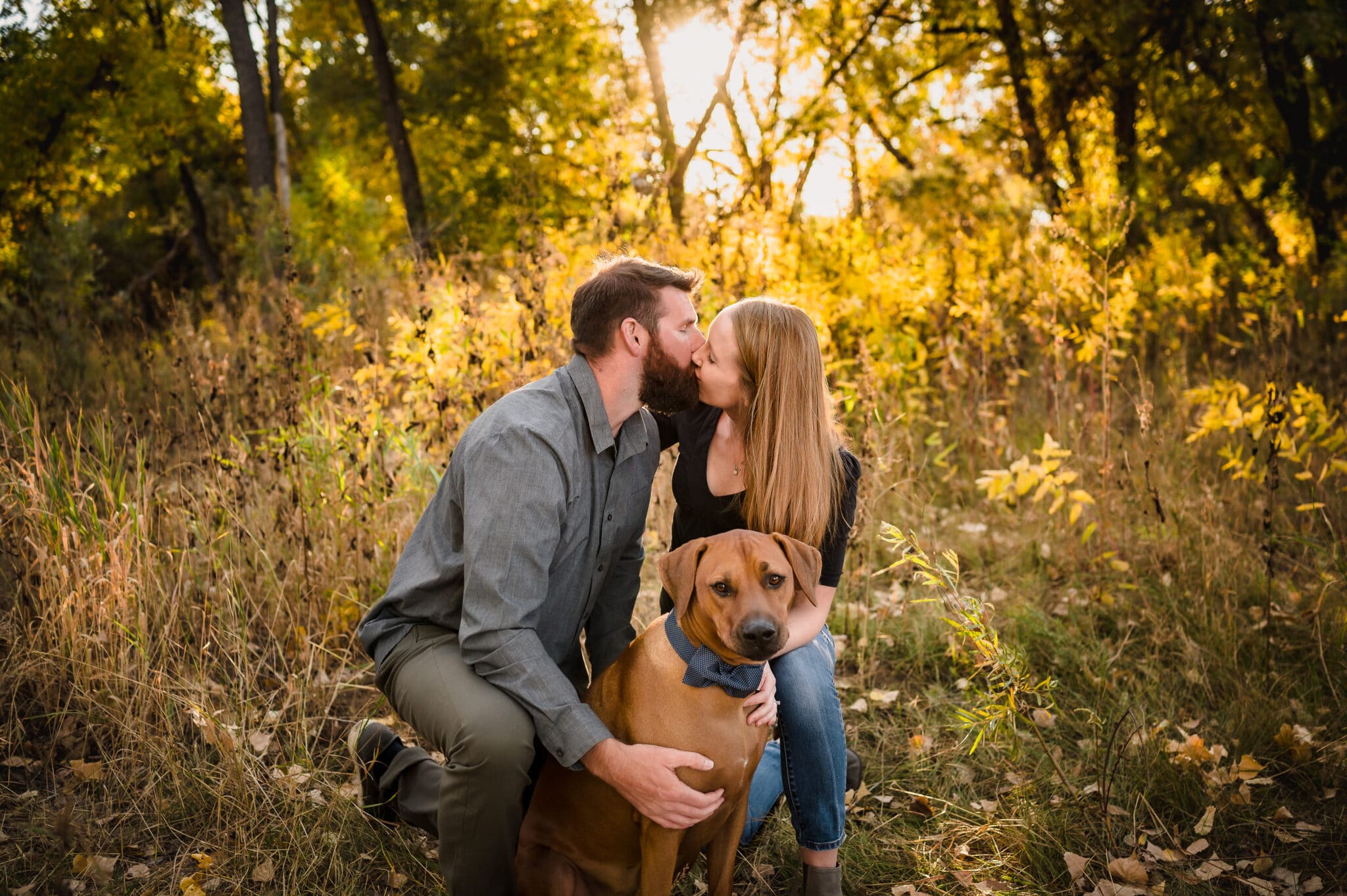 Final Thoughts on Family Portraits with Dogs
Your pet is part of your family. Be patient in knowing that even the smartest and most obedient dog can change its mind about staying still. Remember your dog's unpredictable nature is one of the many reasons why you love them.
Thinking about booking a family session? Get in touch here.