High School Senior Photos
Preserve your senior milestones
Professional senior photos that are all about you, the graduate.
I'm excited to bring out your personality by customizing every session in an individualized way.
Everyone will love your images, seniors and parents alike!
If you think about it, the next time you will be photographed professionally is most likely if and when you become engaged.
Taking time to capture this important milestone will create memories for years to come.
short on time?
01
Just want to get that yearbook photo off your checklist? Choose the express session for a quick and time-efficient experience. Then, enjoy the additional photos in your gallery that capture this moment in your life for all time.
unsure about the value?
02
Making portraits is different than taking snapshots. I love it when seniors tell me how fun I make the process. That I listen and give great feedback. Senior photos are not about taking corny smiles. They're about creating images that are special and unique!
uncomfortable with cameras?
03
Setting up a session that's comfortable means making smart choices. Select times of the day that are less busy and locations without as many people.
Time Flies by at Warp Speed!
You finally made it to your last year. All of the hard work has paid off and your moving on to the next chapter of your life.
While you're probably busier than you have ever been, take just a few minutes to schedule a photo session. You will have images that tell the story of this time of your life that you will cherish for a lifetime.
Your Style
Senior Portrait Photography
Choose the look you want for your session. Consider your interests and personality to select a location and look for you, whether indoors or out.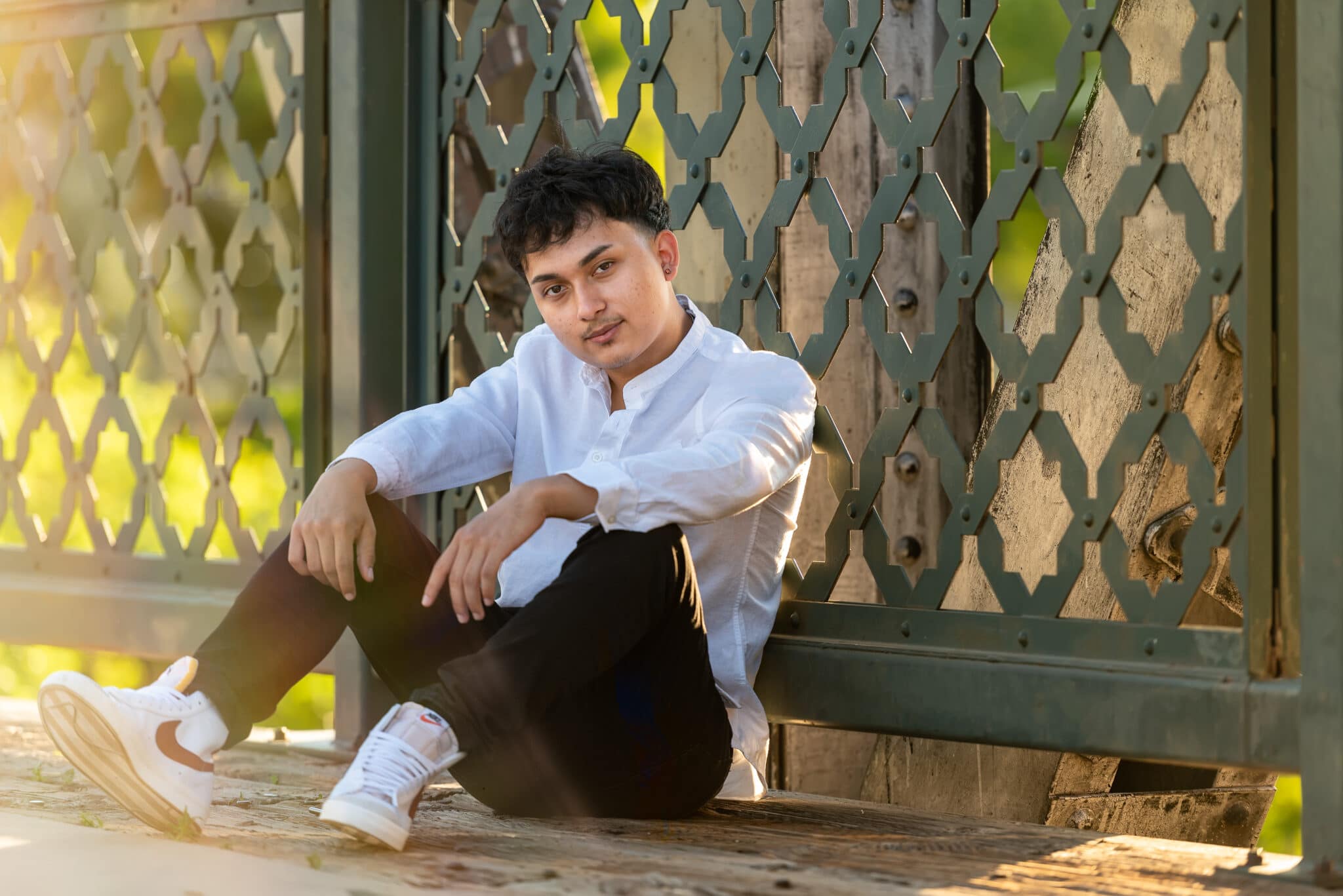 Here is what you get:
The Senior Photo Experience
01 – Consultation
Let's chat a bit, getting to know each other. This is the perfect time for asking lots of questions. It gives us the opportunity to discuss the vision of your portraits, your particular needs, and your preferences for digital and/or print.
02 – Booking
After the planning consultation, we'll find the perfect date that works with both of our schedules for your session! Then, we will work with your school schedule the best that we can, but keep in mind that weekends always go fast. They also have more people, so if you're shy, think about choosing a less busy time.
03 – Location
The perfect location combines science and art for the perfect fit. We will discuss your personality, how far you would like to travel, and the time of day you are available to come up with your personal list of locations.
04 – Session
You'll want to look your best on the day of the session. Consider booking a session with a professional hair and makeup artist. Remember your hands will show and consider getting a manicure. Take time to get wrinkles out of your clothing and clean your glasses if you decide to wear them for your session. Make sure to eat some food beforehand to help you keep your energy up!
05 – Art
After your session, we can set up a time to get together to review your photo book or album. For wall art, we use an app to preview and determine the perfect size to fit your area. Once approved, your fine art book or album will go into production for final completion at select print vendors.
06 – Delivery
4-6 weeks after placing your order you will receive your digital and print deliverables. These include your personal image gallery, digital download information, and your print release. Any albums and wall art will also be delivered for displaying in your home or giving to family and friends.
Helpful Tip:
In photographs, your eye is drawn to the lightest part of the image, followed by the color red, and text (lettering). If you have pale skin and don't want someone's eyes to be drawn there, you may want to wear sleeves or longer tops vs a crop top. You also may not want to wear a concert t-shirt if the lettering is particularly strong.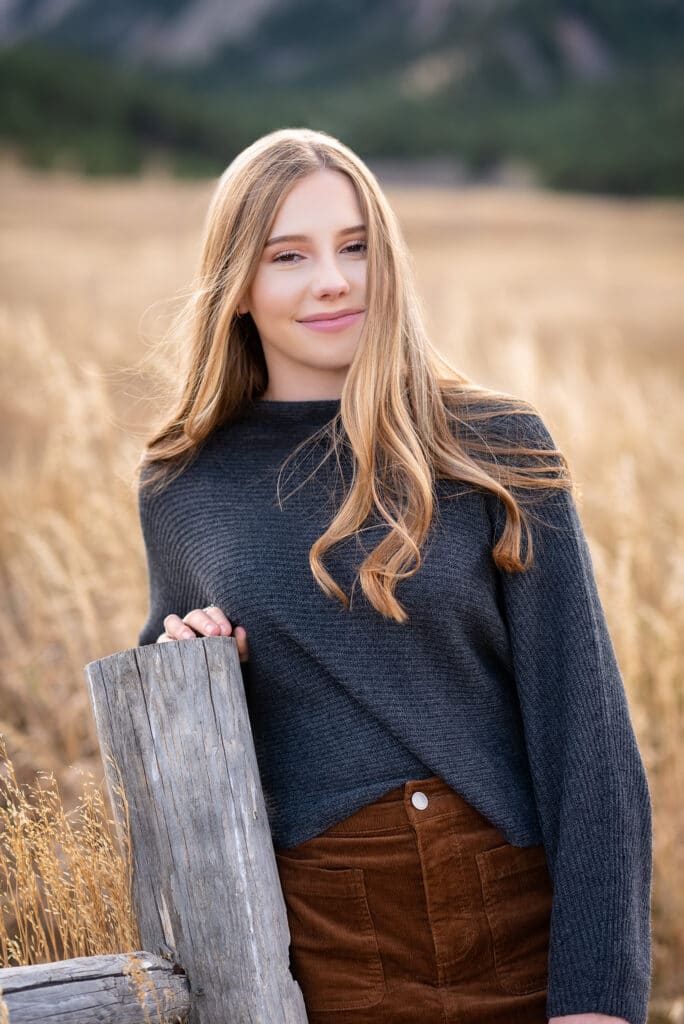 What to Wear for Senior Pictures
Most seniors bring a variety of dressy and casual outfits. If you like variety, you will want to consider a longer vs. a shorter session to allow time for outfit changes.
Test Out Your Looks
To get an idea of how your outfit will photograph, place your outfits on your bed along with the accessories and take a cell phone photo of each set. Then, send the photos to those friends that you know will give you an honest and constructive opinion. Additionally, we can look at your photos together to choose the best options for each location.
Layer to Switch Things Up
Layering is a fantastic way to change up your look easily, and the camera loves textures! As you choose your outfits, keep the locations and seasons in mind.
Accessorize
Remember to bring your favorite accessories like hats, sunglasses, and jewelry. Bring shoes and appropriate undergarments for each outfit, too.
Be Yourself
Make sure you're comfortable with whatever you choose. If you feel awkward, it will show in the photos!
Yearbook Pro-Retouch
Full retouch of the selected yearbook image includes removal of facial shine, stray hairs, skin blemishes, whitening of teeth and eyes, standard facial retouch, braces removal, and eyeglass glare removal.
Senior Pictures Pricing
Package One
Up to 2-hour session
1 Person
1 Photographer
Up to 2 Locations
2 to 4 Outfits
Standard color correction and basic retouch
On-Line Image Gallery
1 Yearbook Image with Pro-Retouch
High-Resolution Digitals (about 100-200)
Print Release
$55 toward photographic prints
Package Two
Up to 1-hour session
1 Person
1 Photographer
1 Location
1 Outfit
Standard color correction and basic retouch
On-Line Image Gallery
1 Yearbook Image with Pro-Retouch
High-Resolution Digitals (about 50)
Print Release
Express
Up to 20-minute session
1 Person
1 Photographer
1 Location
1 Outfit
Standard color correction and basic retouch
On-Line Image Gallery
1 Yearbook Image with Pro-Retouch
High-Resolution Digitals (about 20)
Print Release