Great Gatsby-Themed Birthday Party
Three years in the making, Michael created a spectacular Great Gatsby-themed party with friends and family to surprise his wife Rachael for her 40th birthday.
A Grand Entrance
The birthday event captured the extravagance described in F. Scott Fitzgerald's book, The Great Gatsby, published in 1925.
A limousine arrival of the birthday celebrant (blindfolded) with assorted family members dropped them off at the door of Stonebrook Manor in style.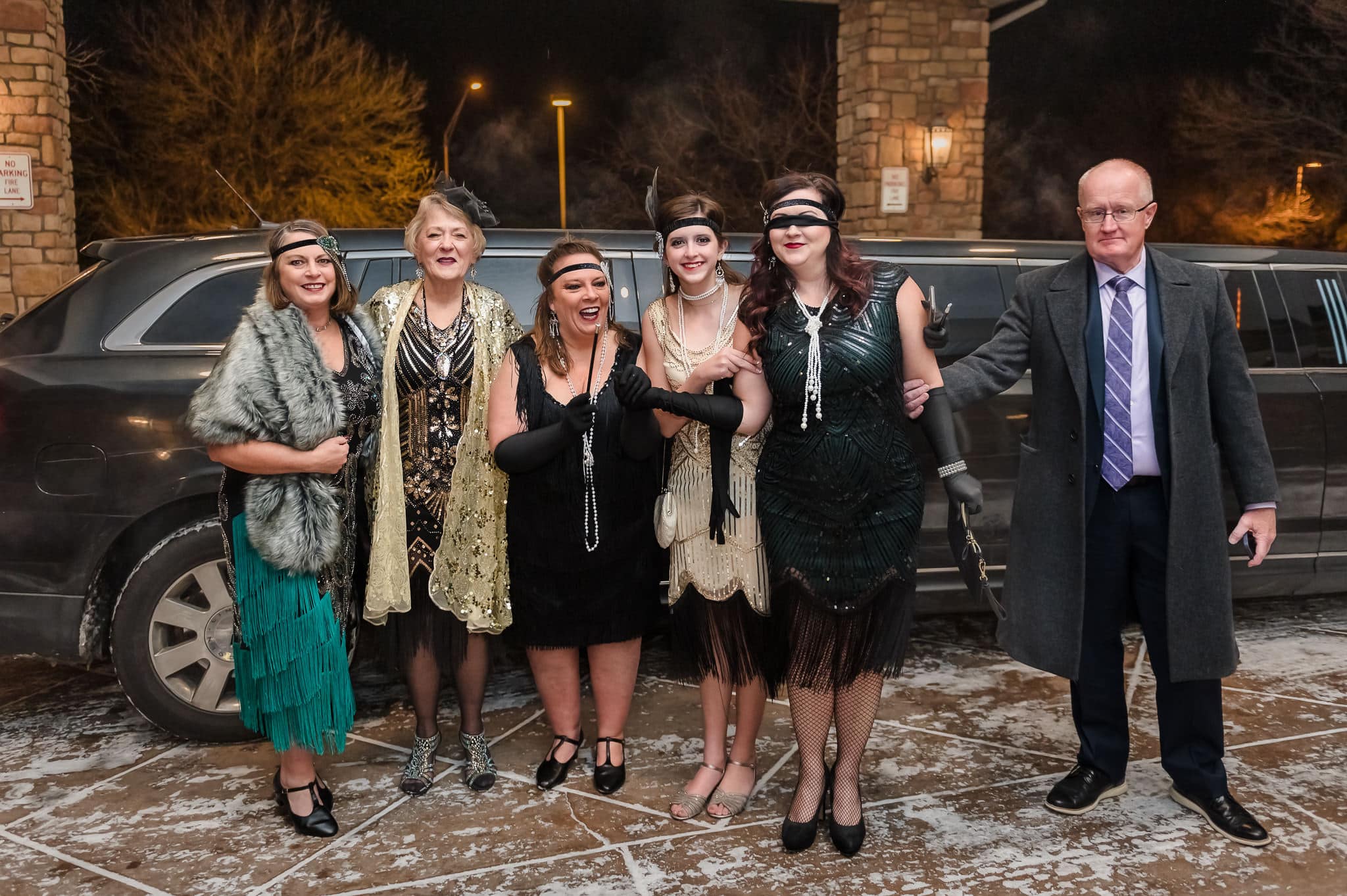 Family members were ushered quickly into the ballroom while stepdaughter Emily escorted Rachael up the stairs to the grand balcony.
Stonebrook Manor made this grand entrance easy as they provide a separate door with a set of stairs that exits out onto a balcony over the guests. The DJ further illuminated the banister, stairs, and balcony with a spotlight for an added effect.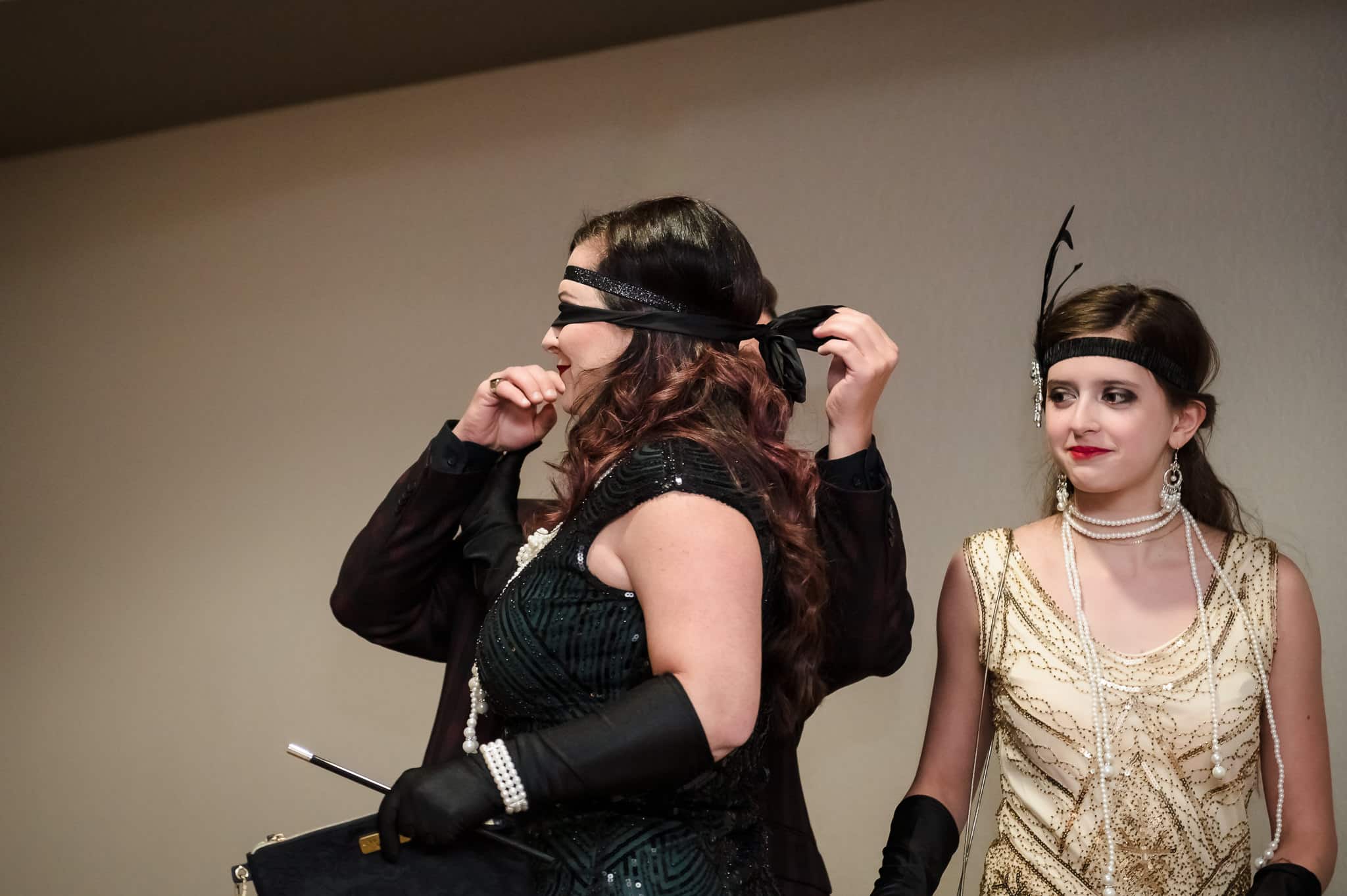 Michael unbound his wife's blindfold and everyone applauded at the surprised guest of honor. Rachael knew obviously that something was in the works but had no idea of the specifics.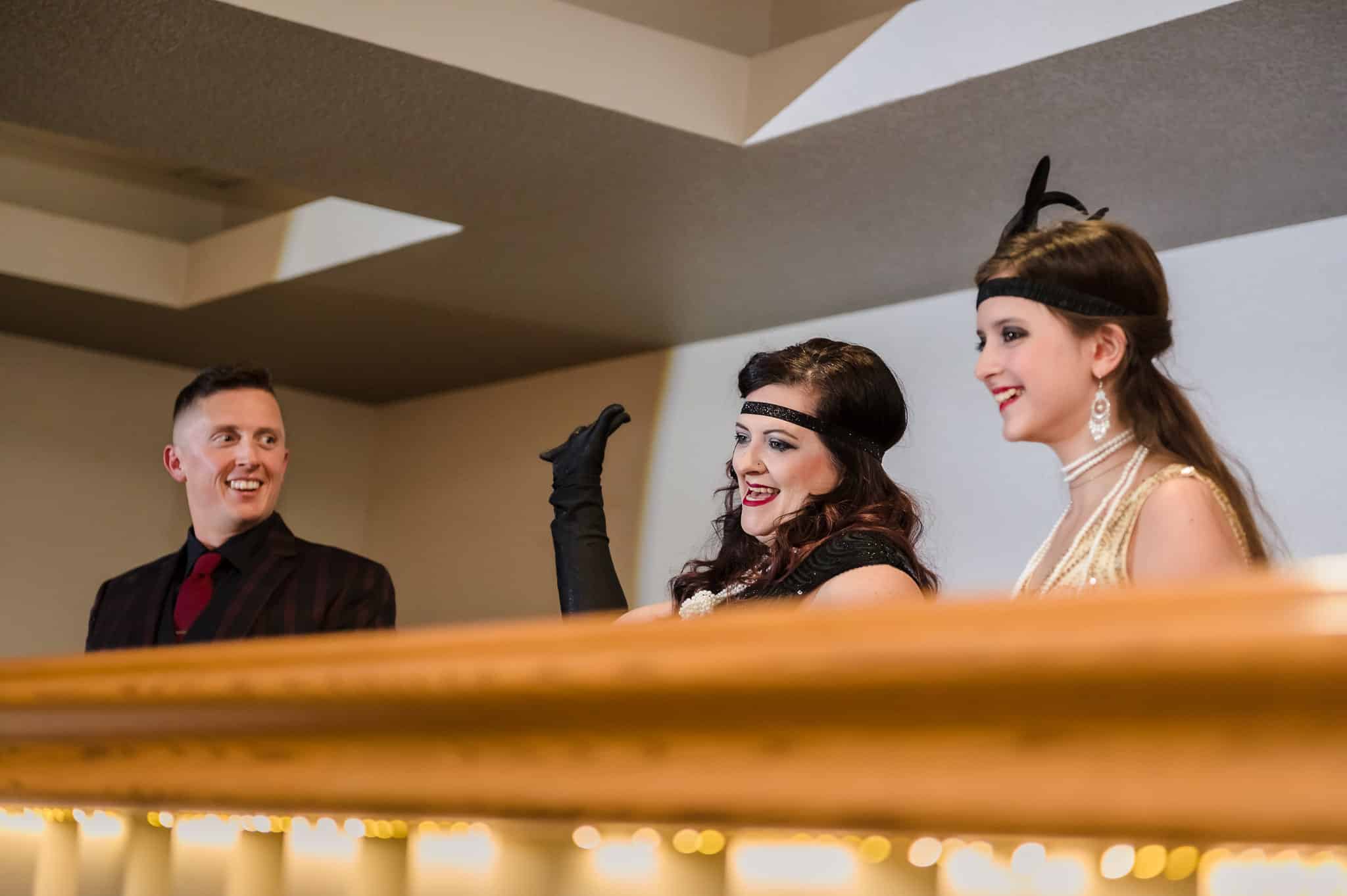 Michael offered words of welcome to the crowd, explained that The Great Gatsby offered hope, and spoke a few words about the birthday honoree.
The trio then descended the stairs and joined the crowd. After several embraces and hugs, the party had begun!
Attire
No Gatsby-themed party would be complete without all attendees fully embracing 1920s-period attire. Several guests wore outfits put together from thrift or vintage shops to create their own looks. Others took advantage of online ordering with vintage-inspired ensembles. To complete everyone's outfits, the host offered accessories, like headpieces, on a table outside the ballroom.
Details
For entertainment, a wide variety of fun games, music, and treats filled the evening. These included a collection of casino gaming tables, a fully stocked bar, a photo booth with an Art Deco background, music with a lighting system, and a DJ at the helm.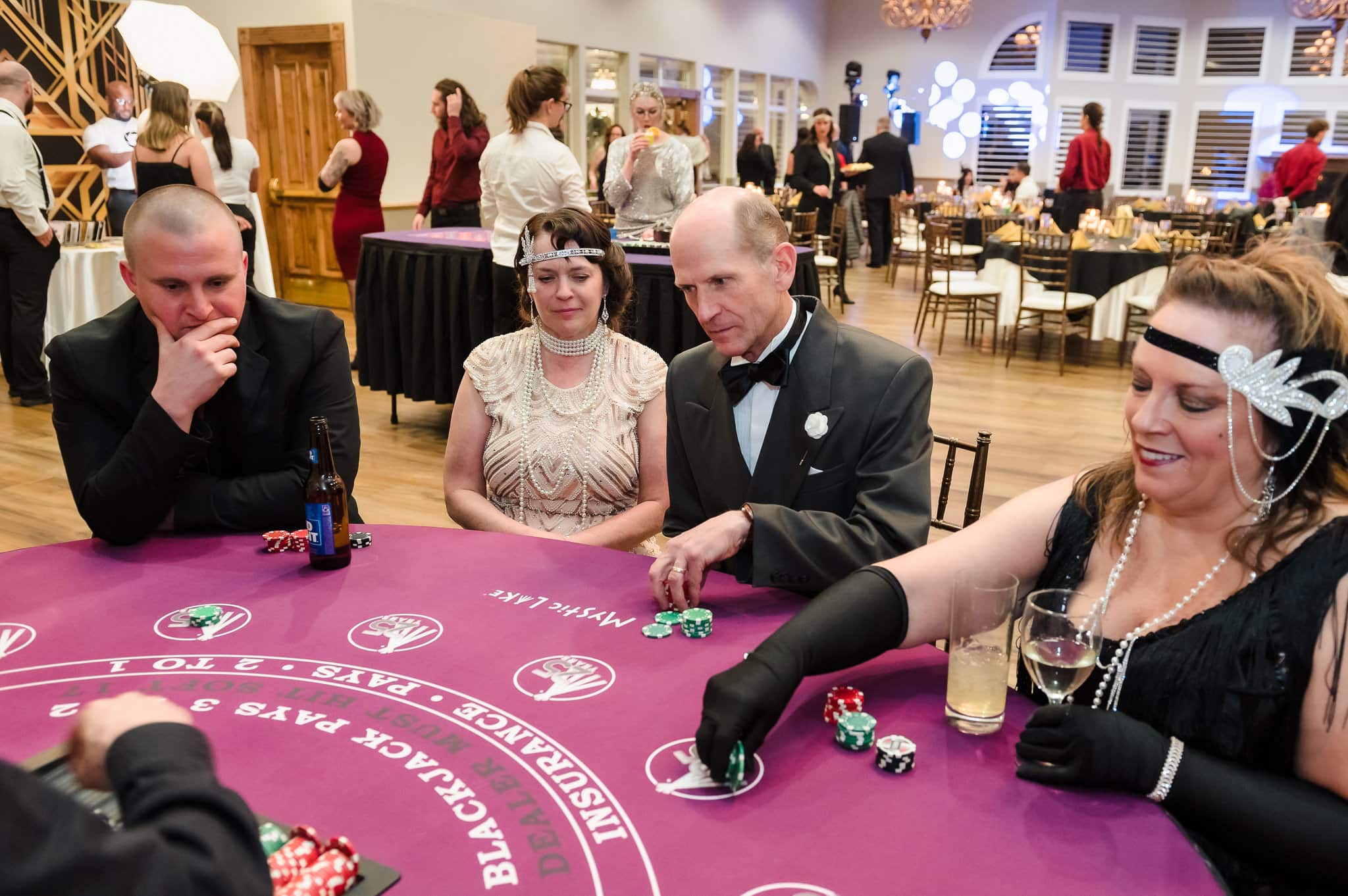 Everyone enjoyed a dinner buffet, and to cap off the evening, assorted birthday cakes decked in beads, pearls, feathers, and other period-appropriate bling.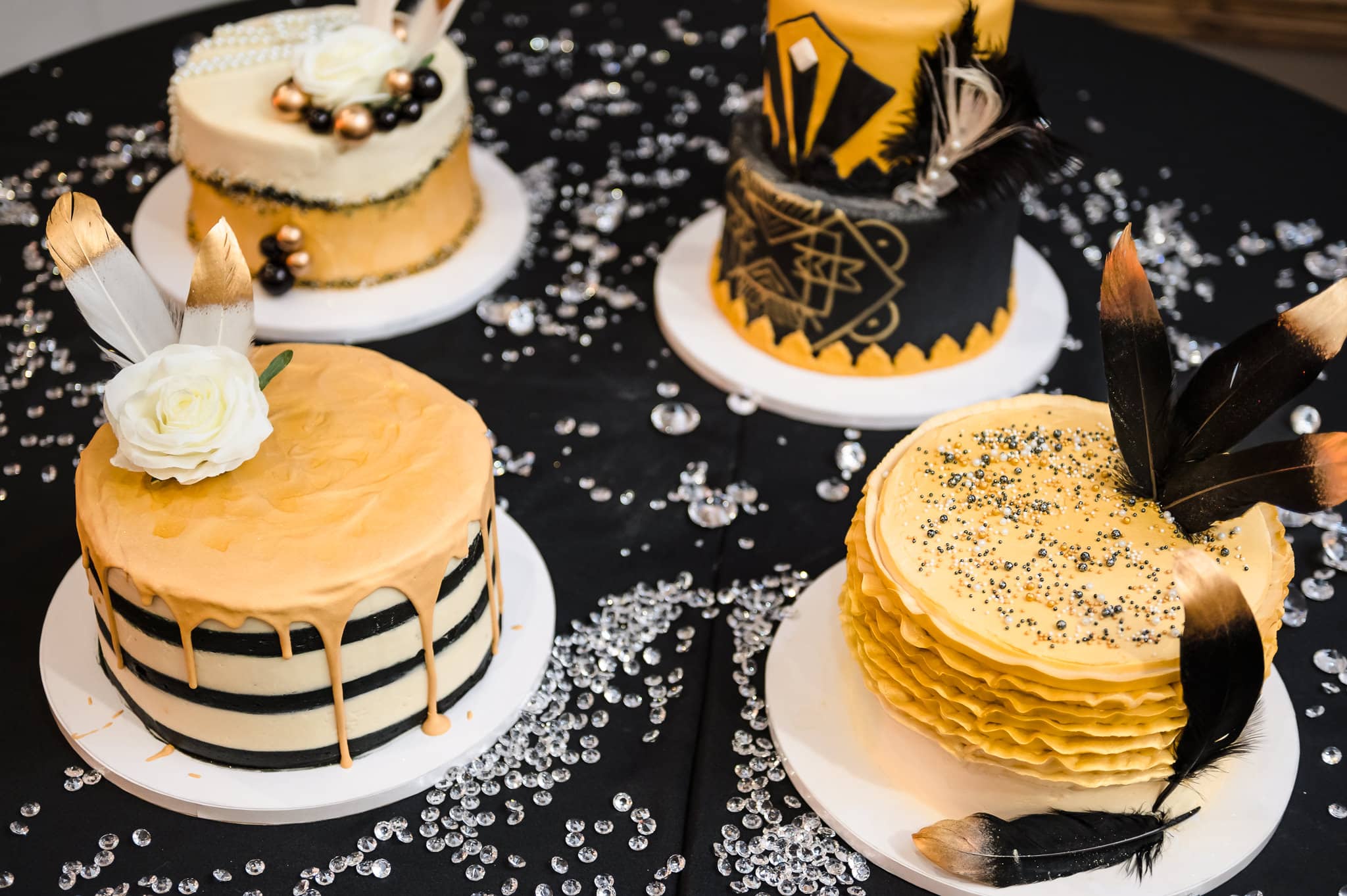 For every kid at heart, an entire table of sparkling sweet treats beckoned with empty golden candy boxes. These were filled by guests to their heart's content and sealed with a variety of monogrammed stickers with Rachael's initials to take to their table or home for later consumption.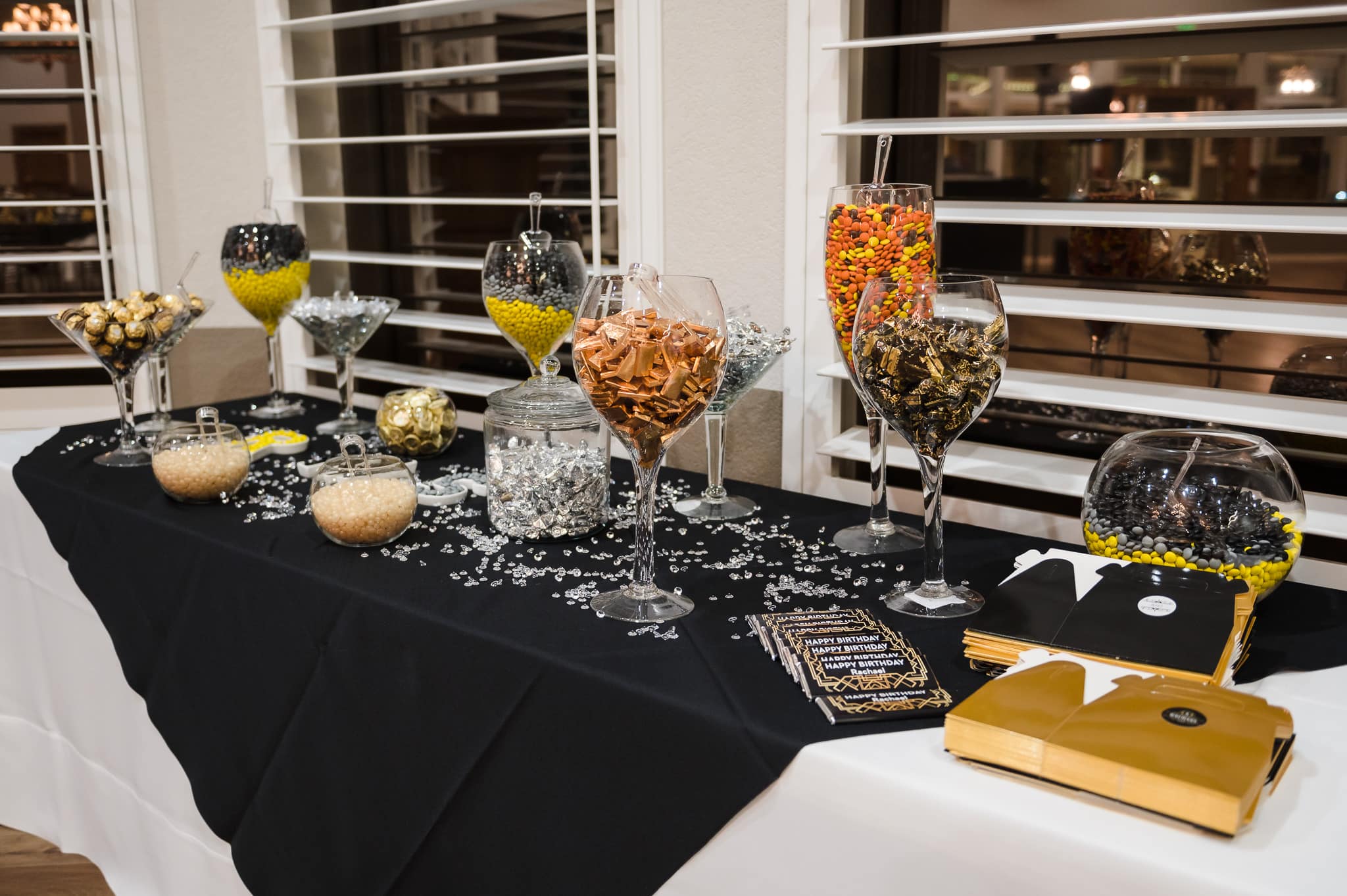 Dance Performance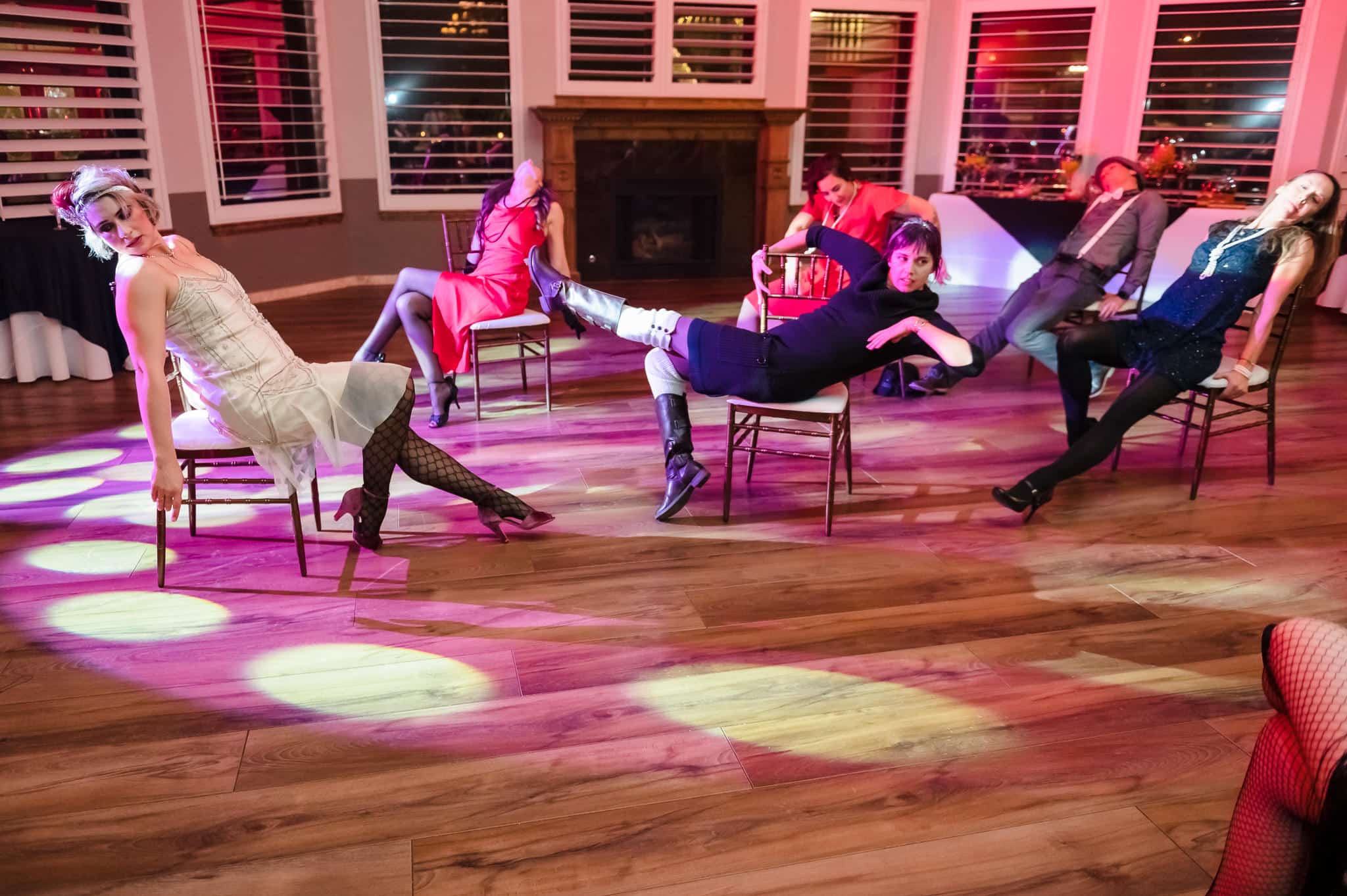 The highlight of the evening was a group dance performed by Rachael's friends to the song Creep. The ensemble used chairs and did an amazing job balancing and using these props for effect. At the end of the song, everyone departed and carried off their chairs, leaving just a single hat on the floor.
About the Book
The Great Gatsby is the third novel by American author F. Scott Fitzgerald, published in 1925. Set in Jazz Age New York, it tells the tragic story of Jay Gatsby, a self-made millionaire, and his pursuit of Daisy Buchanan, a wealthy young woman whom he loved in his youth. Gatsby's extravagant lifestyle and dazzling parties described in the book are simply an attempt to impress Daisy. The story reflects on the power of transforming dreams of wealth and love into reality and contemplates the demise or transcendence of the American dream.
Sneak Peek Gallery
Vendors Making the Event
Details count at an event like this and these vendors made it happen.
Gatsby-Related Details
This post is not sponsored, but you will find affiliate links in the Gatsby-Related Details box below. The price you pay as a consumer does not change, but I may make a small commission based on your purchase.
Did you read the book? What did you wear? When friends and family found out about my covering this event, I received a lot of questions.

I did re-read The Great Gatsby classic focusing on the culture and themes of the book in preparation for the event.

Given that Gatsby threw dazzling parties, I also knew that I wanted to fit in with my attire. I found a great 1920s-inspired dress and a pair of T-strap shoes on Amazon.

The dress, one of three that I ordered, gave a little extra stretch through the midsection. It also offered a touch longer length and therefore more coverage when I needed to crouch down or bend over to pick up something.