Best Wedding Champagne Toast Tips
Cheers to the married couple! The best champagne toasts are sincere, complimentary to the couple, and appropriate for the audience. Ideally, within 3-5 minutes the speaker can toast the couple and leave guests with a smile.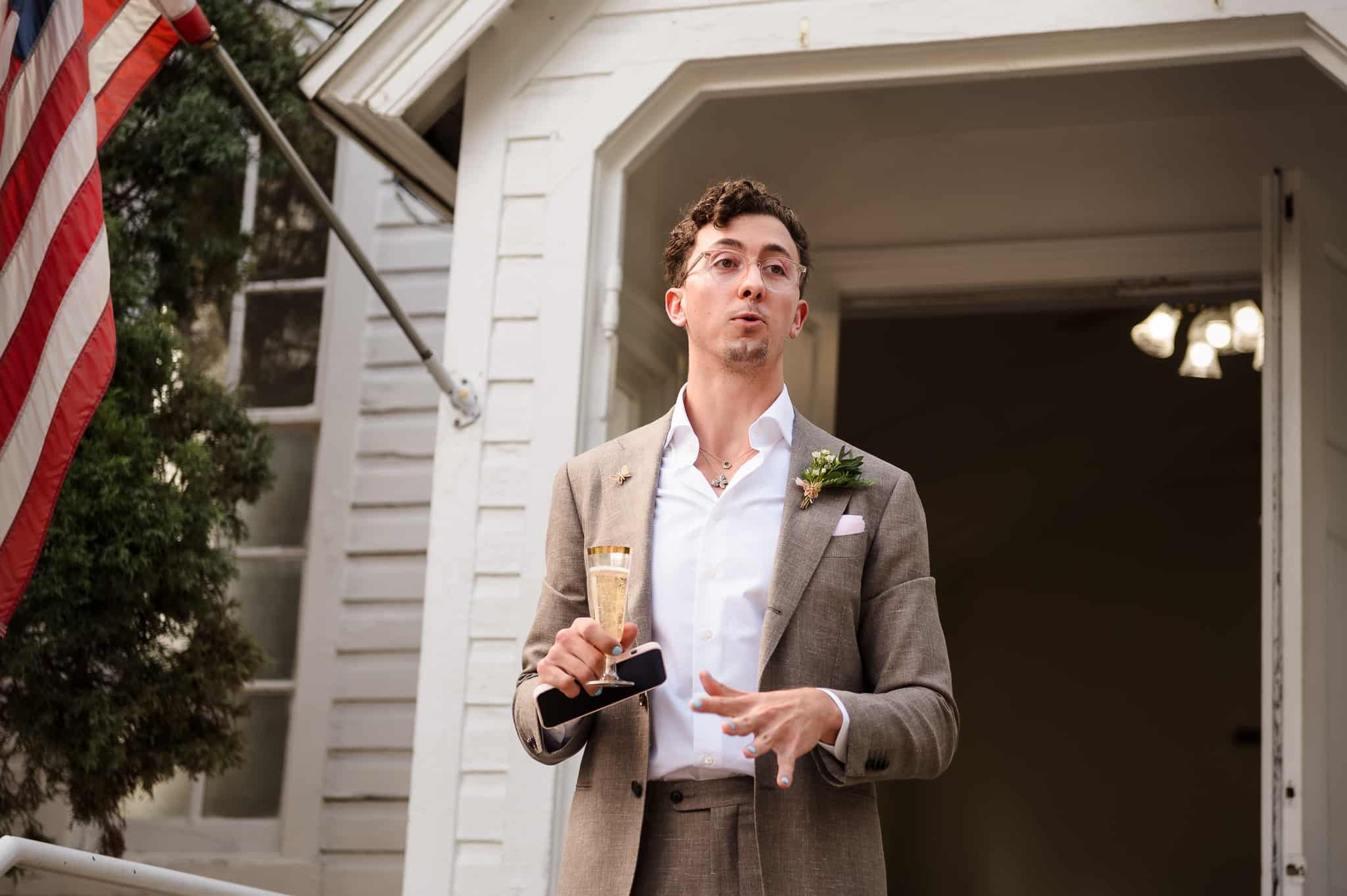 The Toastmaster
Who gives the toast? Potential toasters include the best man, maid of honor, parents, close family member, or a special friend. At second weddings, sometimes the adult child of one of the couples will give the toast. Ideally, the person should have a meaningful connection, hold a special place in the couple's hearts, and be able to express themselves eloquently in front of a group of people.
Regardless of who, all glasses should be poured and filled prior to the beginning of the toast.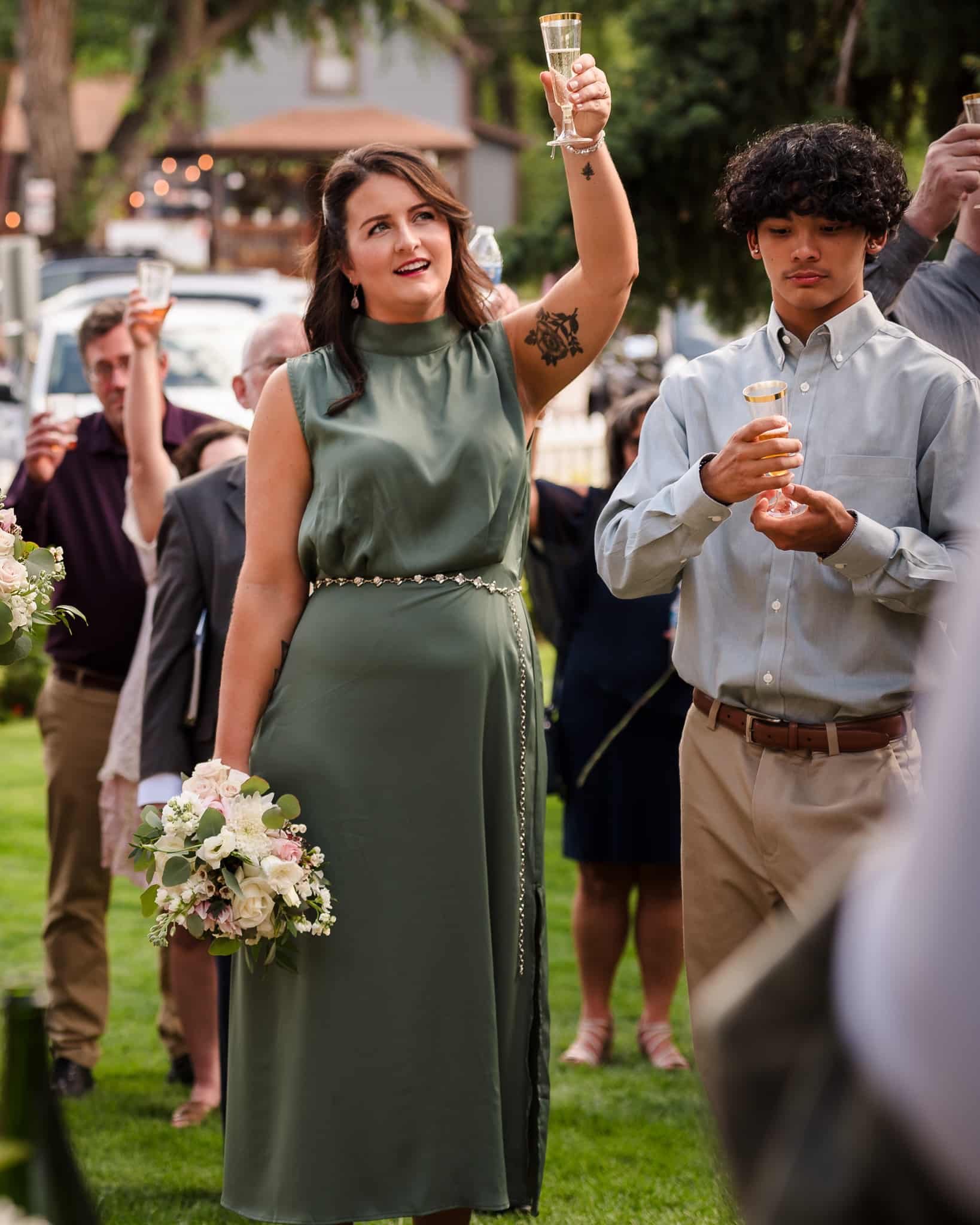 Pro Photo Tip #1 – The Glass Raise
If you're the wedding couple OR a wedding guest, raise your glass to the SIDE (not in front of) of your face.
This way everyone can
see your smile!!! 🥂🍾
Also, be aware of the person next to you, and don't block their face, too.
Timing
There are two components to consider when planning the timing of the toast. First, you want a little time prior to the toast to prepare glasses and place them in an accessible spot for guests. Second, you will want to think about your location and the flow of the events in relation to the timeline.
If your venue allows, consider a champagne reception immediately after your wedding ceremony. This works well for a mid-afternoon ceremony transitioning into an evening reception. Serve a few small appetizers or crudité plates to tide guests over until the reception.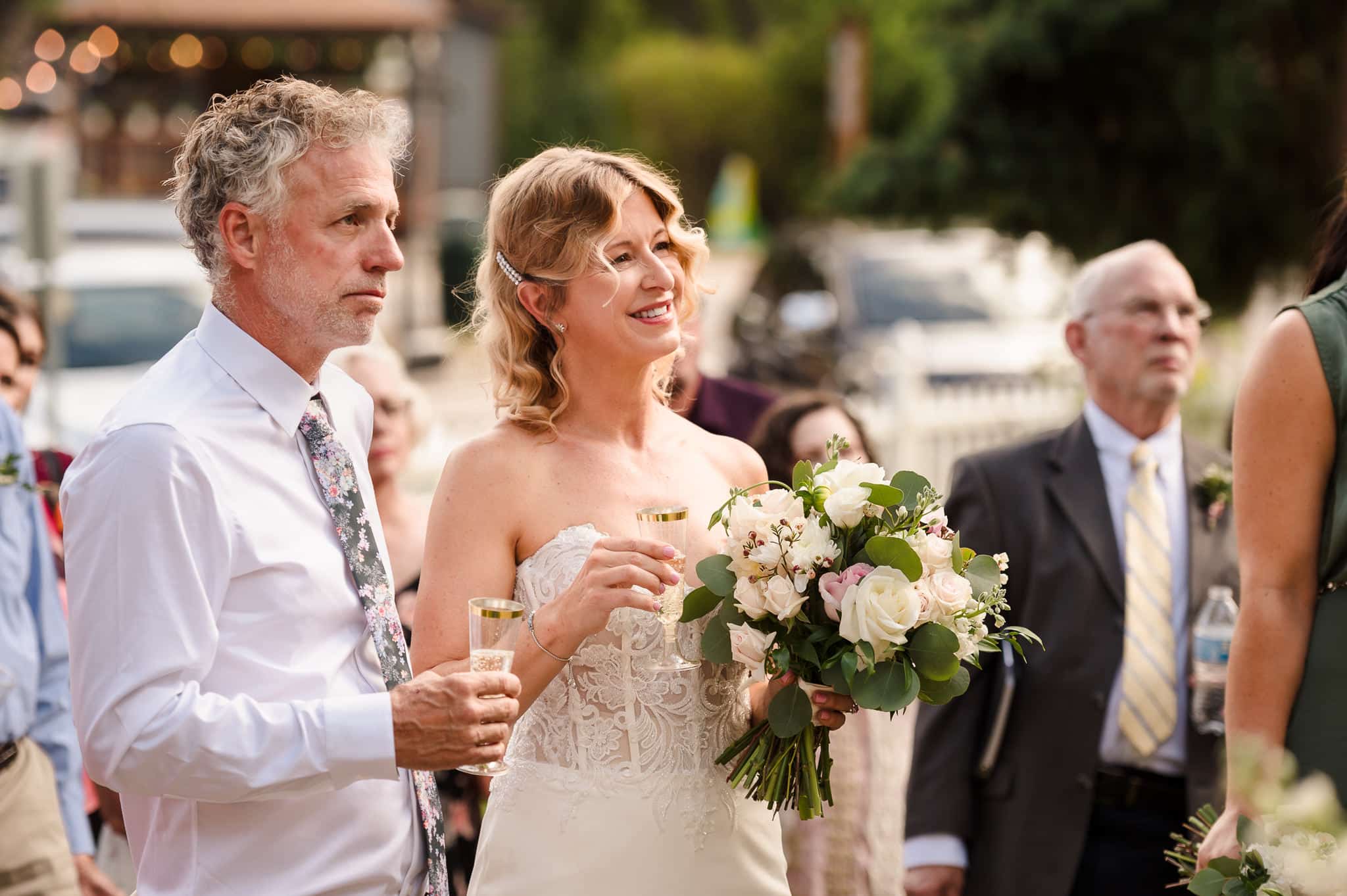 Most times, however, the champagne toast kicks off the wedding reception. It often takes place after the speeches and just before the reception food is served. It makes a great way to transition into the meal. Toasts can also take place after the first dance and before the dessert is served.
Traditionally speaking, the order of toasters is parents of the bride, wedding couple, honoraries in the wedding party, and other toasts. Decide ahead of the event who will be talking and give the list to the wedding planner, photographer, and DJ.
Presentation
For optimal enjoyment of your guests, keep the champagne properly chilled before serving. Store the bottle in ice buckets or a chiller to maintain it at the perfect temperature.
To add to the ambiance, consider glasses that add to the overall wedding aesthetic. For traditional weddings, think about classic champagne flutes. If vintage, consider mismatched coupe glasses.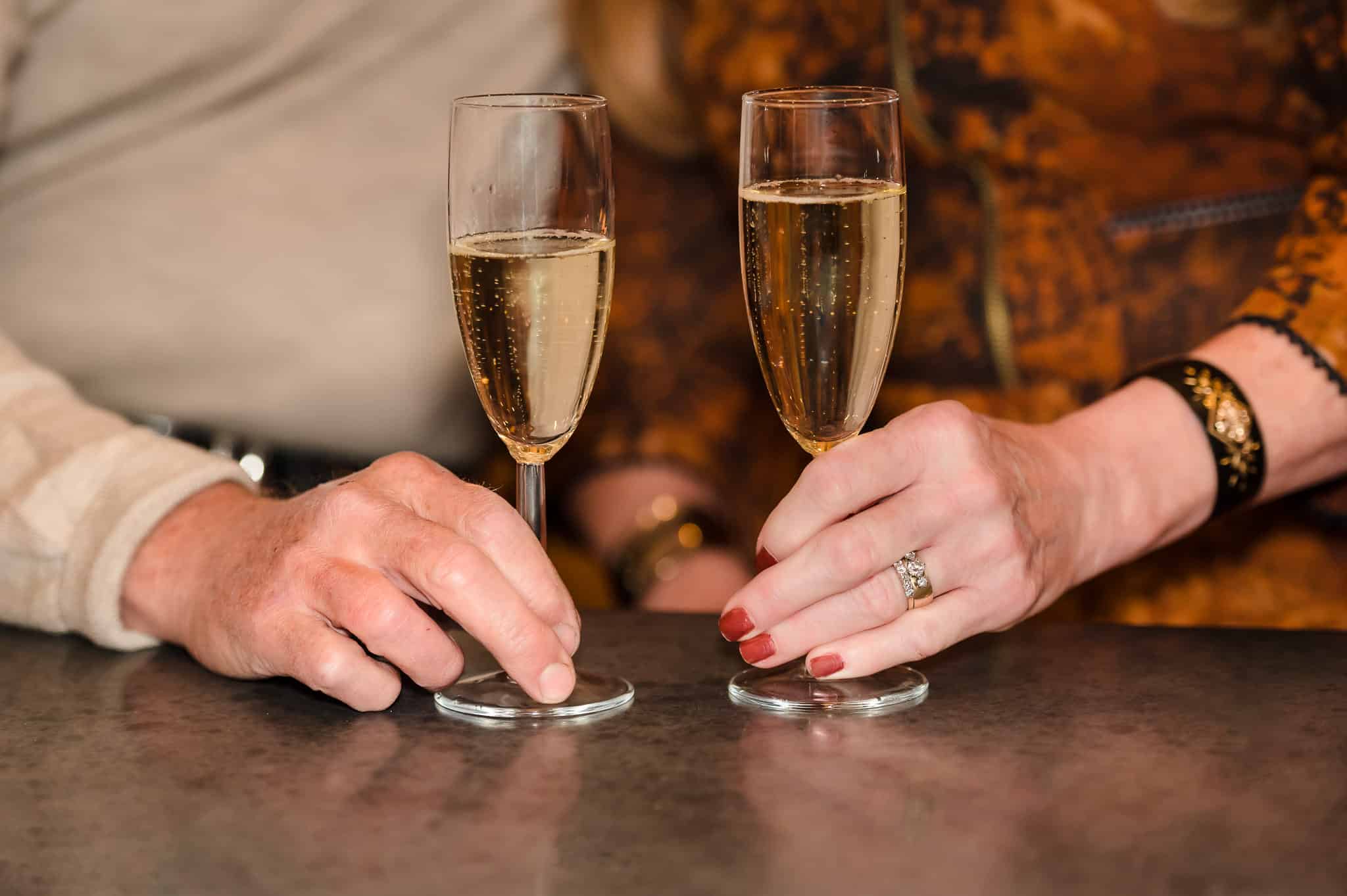 More modern takes on champagne glasses include squared-off designs. These contemporary glasses create a more even distribution of bubbles that fizz more quickly.
Stemless styles also provide a modern twist on the classic champagne flute. However, the removal of a stem means the champagne warms more quickly in a person's hand.
For champagne toasts that take place outdoors or in natural areas, consider vessels made of recyclable materials for easy cleanup and disposal.
Pro Photo Tip #2 – Sound & Gear
Make sure to secure sound gear and test for feedback ahead of time. At a minimum, supply a hand mic. For microphones with clips, pin them in an inconspicuous place for great photos.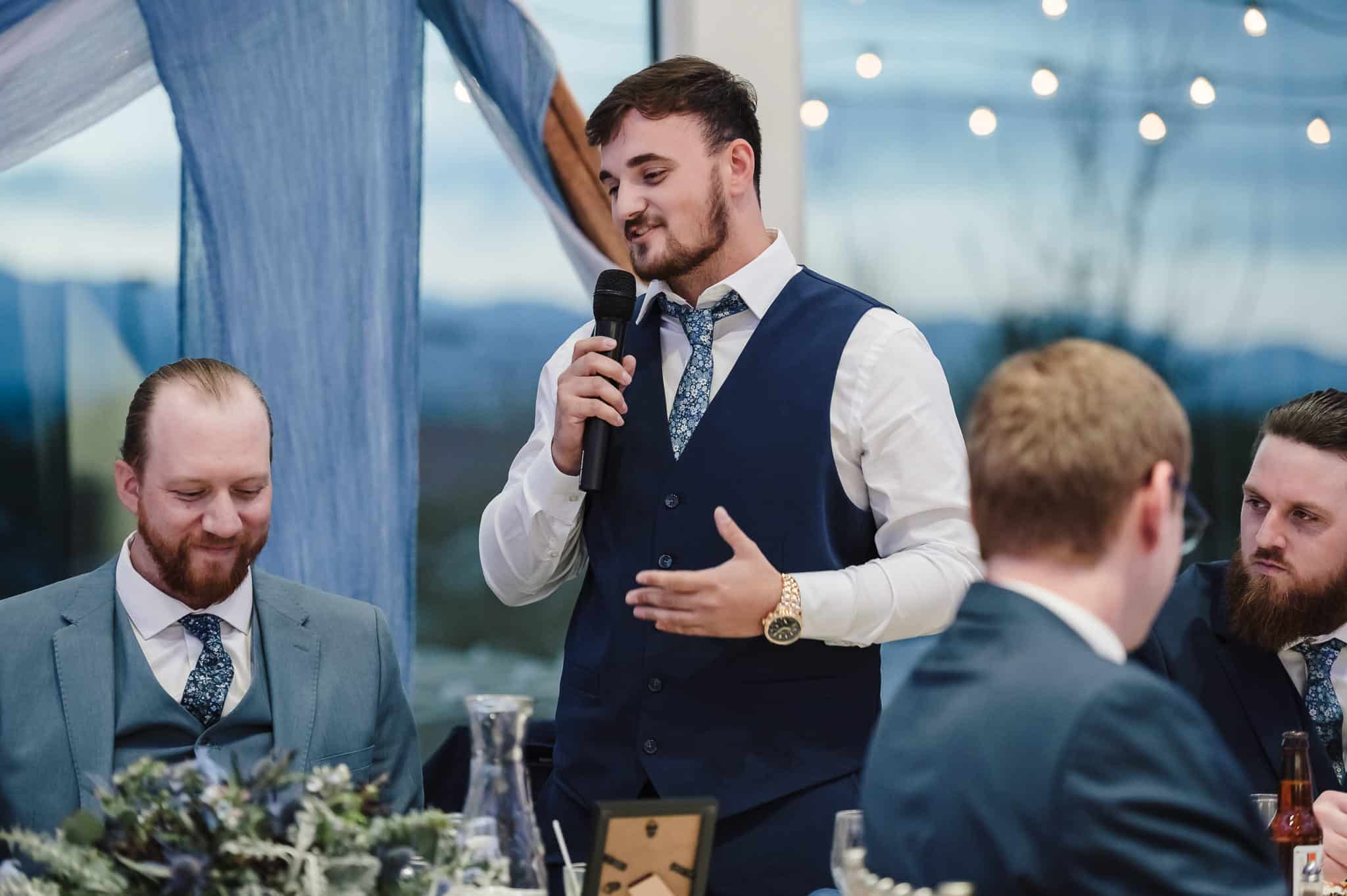 Personalization
Instead of champagne, consider shots, signature cocktails, or your favorite wine to make the toast your own.
If going with traditional champagne, consider ordering bottle labels with your name, wedding date, and a meaningful quote or message. Choose elegant packaging, such as decorative boxes or bags, to present the bottles. In addition to adding a touch of sophistication, some packaging keeps the champagne cool until it's time to toast.
MOST MEMORABLE TOAST
Tomahawk Toast
Getting the cork out is part of the drama at The Fort in Morrison, Colorado. The so-called Tomahawk Toast serves up champagne in a unique way that gets your guests talking. See the toast in action on this video.
Quantity
A champagne bottle contains roughly 25 ounces. A glass may be five ounces, but for a toast, typically a pour is about half or a third of that amount. Ideally, a toast pour should be a small amount for everyone present. To be on the safe side, experts recommend estimating about eight toast-sized pours per bottle.
Pro Photo Tip #3 – Position
Ask the caterer or event planner to position the toasters near the wedding couple. Inform the photographer and videographer about the position and timing of the toast. Having the toaster in proximity means photographers and videographers can capture the toaster and the wedding couple in the same frame. Rather than two separate images taken on opposite sides of the room, the expressions of both can be captured together.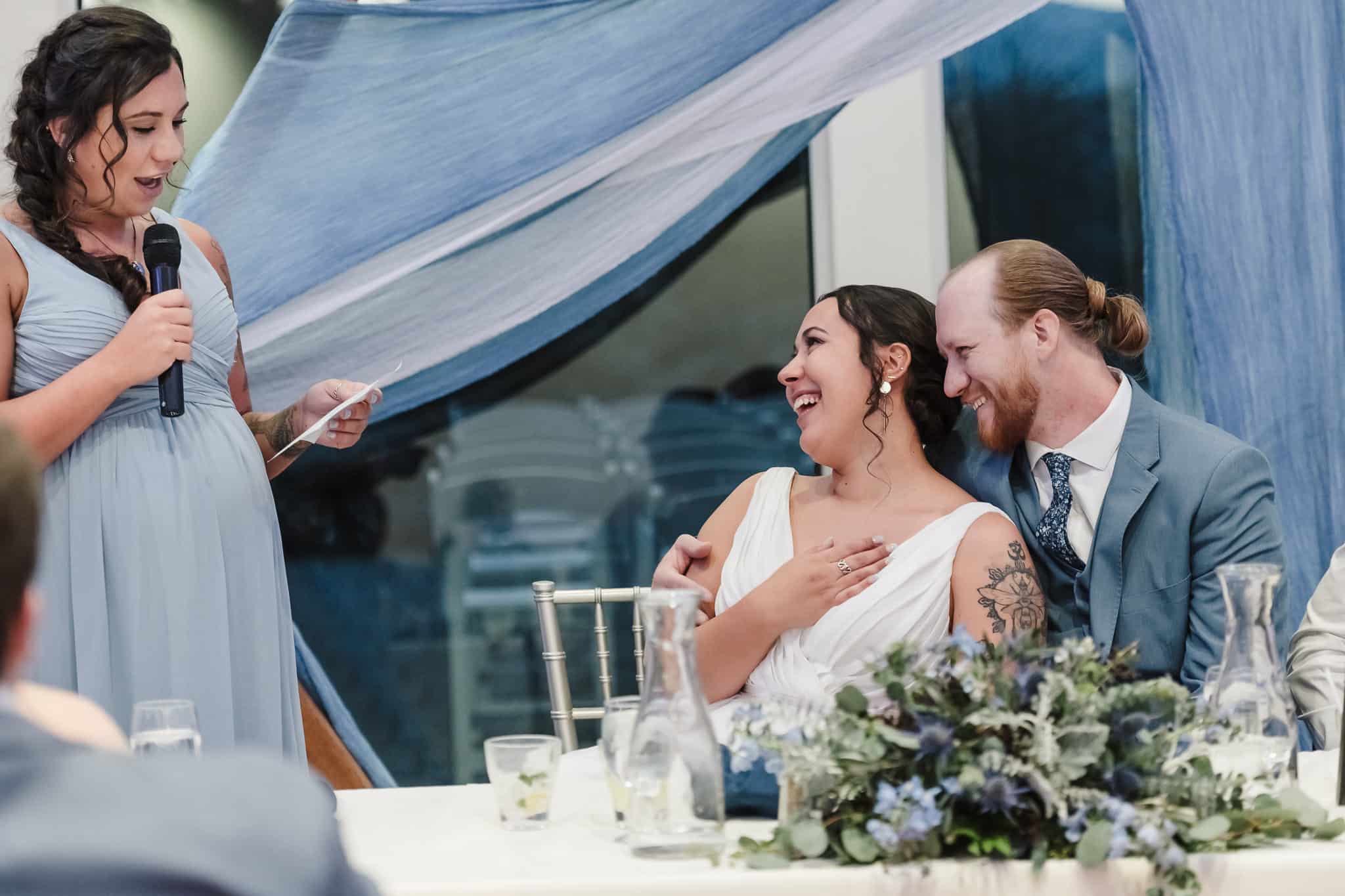 Recommendations
To get help with the champagne toast, consult with the caterer or bartender. They will be able to help you choose from the many options available and find a selection that fits both budget and taste.
Make selecting a champagne fun by attending a tasting with your partner before the wedding as a date night activity. Try out brut, extra-dry, or sweeter options like demi-sec to figure out what you both love.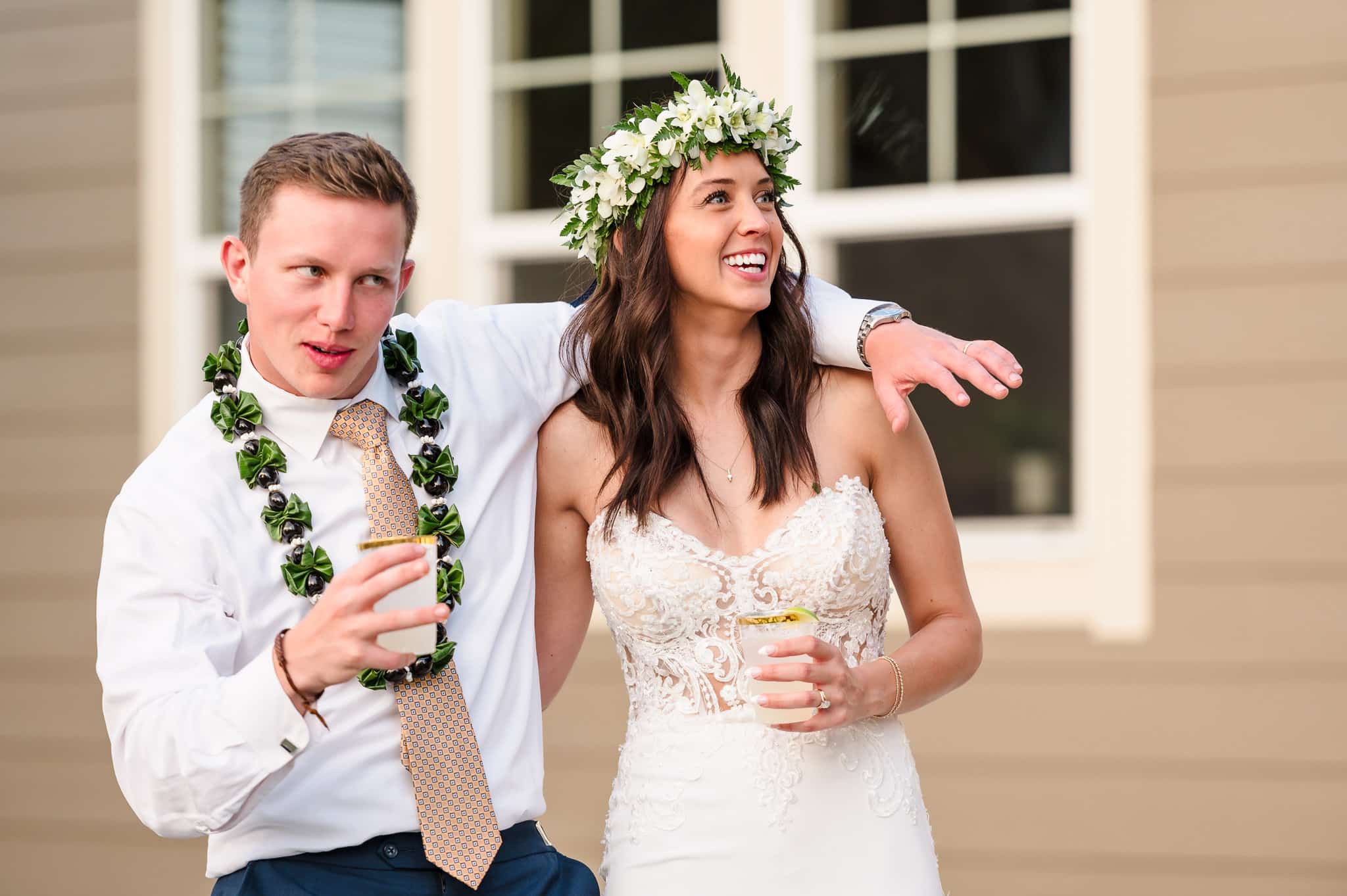 Alternatives
While champagne toast traditionally makes a great way to celebrate an event, for some couples the idea of filling up a glass with expensive sparkling wine is an idea of the past. Instead, modern event hosts choose to invite guests to toast with their drink of choice in hand. Providing a non-alcoholic option for non-drinkers and kids available will allow them to participate, too.
Regardless of what you choose, make sure your toasting moments reflect your individual taste and personality for a memorable part of your day.
A Glass-Act – Outdoor Plastic Options
Weddings more often than not happen in the greater outdoors where glass is prohibited. And, if you're hosting a DIY backyard wedding, non-BPA-plastic recyclable options are a bonus.

To help save time with your planning, here are a few popular champagne glass options on Amazon.

This post is not sponsored, but you will find affiliate links in the post above. The price you pay as a consumer does not change, but I may make a small commission based on your purchase.
What to Say
Your heart may be full, but suddenly your brain freezes, and your normally talkative mouth suddenly doesn't work when asked to speak in front of a group of people. When that happens, here are a few short modern wedding toast ideas, just remember to replace names as needed.
General Toasts
"To the wedding couple. May your love continue to grow deeper and stronger with each passing day."
"To a lifetime of love, peace, and happiness. Here's to the wedding couple! Congratulations!"
"Always remember to forget, the troubles that passed away. But never forget to remember, the blessings that come each day." (Irish blessing)
May all of your hopes and dreams come true, and may the memory of this day become dearer with each passing year.
More Personalized
"Kylie and Sean, may today be just the beginning of your beautiful journey together. From the bottom of my heart, I wish you my congratulations and best wishes on this special day."
"Robert and John, I've known you both for over 15 years and I think most people here would agree with me when I say, 'It's about time.' While I can only take credit for introducing you both, the rest goes to you both for sticking together through thick and thin. I wish you many years of happiness together. Cheers!"
"I've always wanted the best for my roommate and I'm so excited that Tricia found that in Clayton. They are the perfect match. Please raise your glass and wish them much joy and love on their new adventures together."
"It's such a joy to see Tammi find her true love and to welcome Mike into our circle of friends. We couldn't be happier that our bestie has found such a kind, caring, and wonderful partner. Join me in wishing them a beautiful life together in marriage."
"Lizzie and Drayton are the perfect match for each other. They complement each other in every way and I think everyone here would agree that they bring out the best in each other. It is a joy to see them together and watch their love grow stronger and stronger with each day."