Holiday Photo Color Schemes and Clothing Ideas
Gearing up for a holiday photo session at home or with a photographer in a studio? If so, like many people, you might find yourself pondering what to wear and how much effort to invest in the selection process.
Given that clothing choices have considerable influence over the aesthetic of your photos, dedicating some time beforehand to curate outfits is a smart investment. You will want to select items that not only reflect the personalities captured but also those that harmonize with the session's environment.
To kickstart this process, here are a handful of tips to guide you through the art of choosing the perfect color palette and attire for your upcoming holiday photo session.
Coordinate, Don't Match
Create visually stunning and harmonious holiday photo color schemes by opting for coordination rather than the exact matching of outfits. The key to coordination lies in selecting a complementary color palette that sets the tone for the session. Instead of everyone wearing the exact same color or pattern, encourage a mix of shades and textures within the chosen color scheme.
For example, if your color palette includes shades of burgundy, green, and gold, one family member might opt for a rich burgundy sweater, while another chooses a deep green scarf. Another person could introduce a touch of gold with accessories like earrings or a statement necklace. These variations add a visually dynamic composition that feels both curated and authentic.
This approach not only adds interest to the overall aesthetic but also allows each individual's personality to shine through. The subtle nuances in choices like accessories, layering, and fabric textures contribute to a coordinated look without appearing overly uniform or contrived.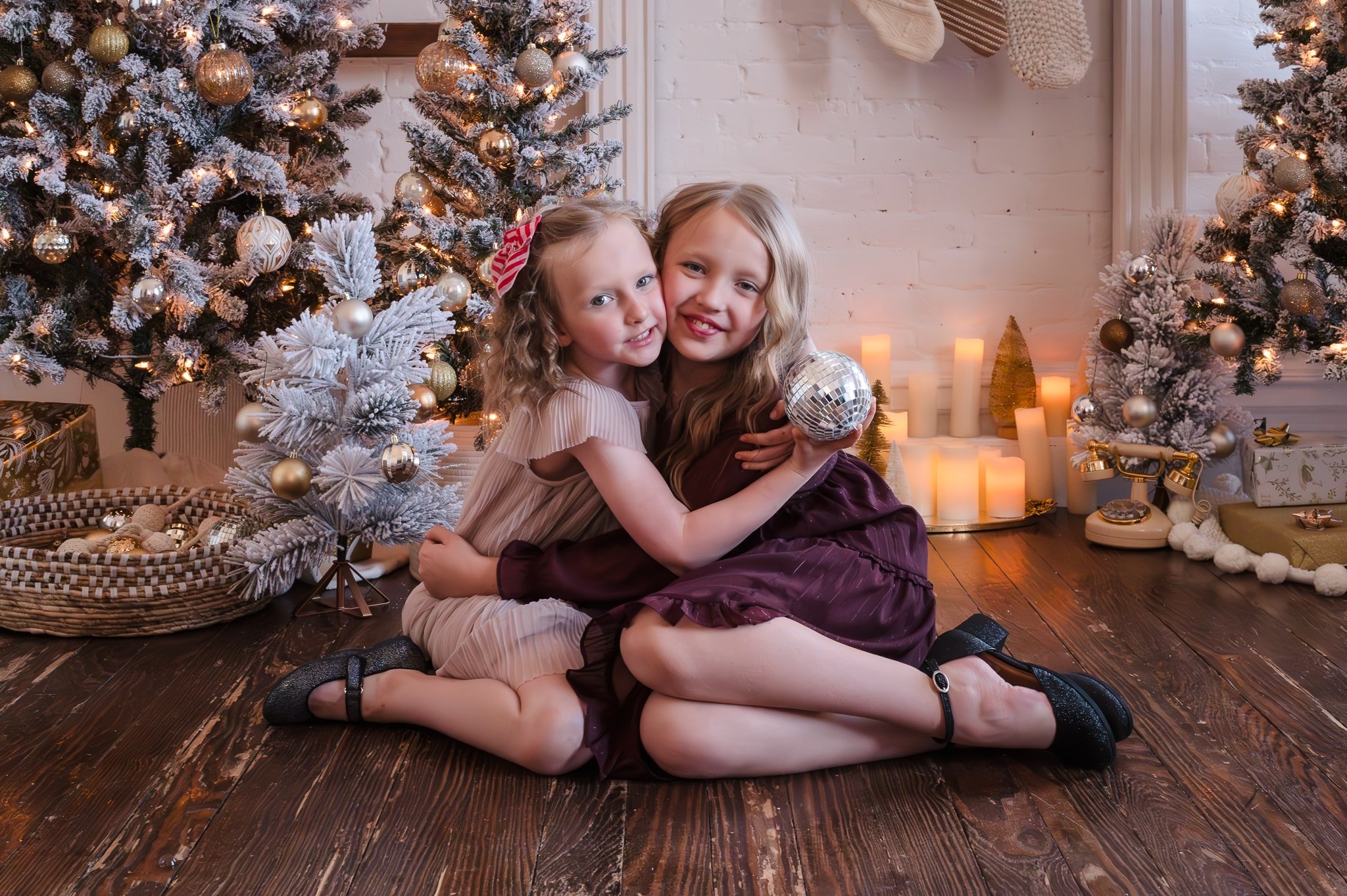 Dress for Comfort and Style
While style plays a role in photos, comfort goes a long way to ensure everyone feels relaxed and at ease during the session. Dress little ones in comfortable, soft, non-itching fabrics. Teens and adults will want to strike a balance with well-fitting items that offer style and comfort.
Also consider the weather, if outdoors, and the ambient temperature indoors. Depending on your climate, indoor sessions may provide a more temperate environment that gives additional flexibility with clothing choices. In extremely cold or hot environments, you can only layer on or take off so much.
Layer to Add Texture and Depth
Layering creates depth in the scene and keeps the eye engaged. Items like scarves, jackets, or shawls not only keep you warm during outdoor sessions but also add variety to clothing ensembles. Knitwear, faux fur, or velvet bring an added richness and dimension to photographs.
When looking at texture, play one off of the other within the persons in the photograph. For example, a smooth taffeta skirt on a young girl contrasts the nubby tweed in a boy's jacket. These opposite textures add dimension and interest to the scene.
Photo Session Clothing Accessories Checklist
Choose one or two accessories that complement your outfit without overpowering the look. If your outfit is bold, go with more muted accessories and vice versa.
Avoid Overly Trendy Choices
If longevity and timelessness are important to you, you may want to skip the latest clothing trends. Classic silhouettes, neutral colors, and traditional patterns that have stood the test of time will add life to your photos.
Then again, sometimes dated photos bring much joy, discussion, and laughter from year to year as you look back and reminisce about a memorable time period and the trendy things you used to wear.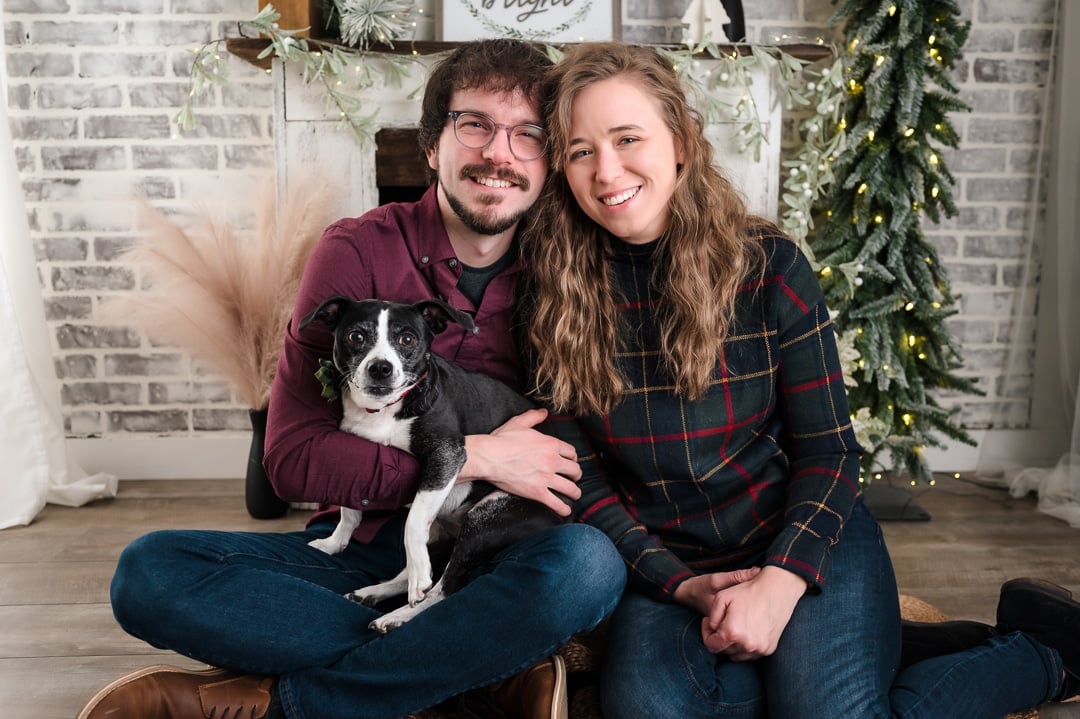 Factor in the Location and Background
Clothing worn in a photo session ideally complements the location and background of your location. Make sure the color palette of the setting works well with the surroundings without blending in too much.
For natural or neutral backgrounds, use the setting as the perfect opportunity to bring in bold or festive colors for a pop of vibrancy. Traditional red and green color combinations, red and black buffalo plaid, or striped candy cane colors come to mind as the antidote to a neutral scene.
On the flip side, if a more cozy and sophisticated vibe is desired, trade out the vibrant colors for soothing hushed neutrals in various tones of cream, beige, and rosy pink.
Natural settings look great with colors inspired by nature such as burgundy, forest green, or deep blues. Take advantage of spruce and other conifer colors with a pop of traditional holiday red or various shades of magenta.
Whatever the color vibe, taking into account the location and background adds that extra quality that brings visual appeal to your photos.
Holiday Photo Color Schemes: Real-World Examples
For your inspiration, included below are color palettes inspired by the sets at the upcoming holiday photo mini-sessions being held in Fort Collins on Saturday, December 2, 2023. The sparkles, white tones, and candlelight of the first set and the garland arch of greenery and ornaments work well with holiday jewel tones and dusty neutrals.
Feeling Stuck? Consult with Your Photographer!
Please reach out if you have any questions or need personalized advice on outfit selections for your holiday session portraits. Taking just a few minutes in advance goes a long way in making your holiday experience stress-free. Wishing you a season filled with love, laughter, and beautiful moments captured on camera.
Related Posts