Winter Engagement: Stacie + Tyler
No Crowds, Just the Beauty of Nature
Utah brings out the hardiness (and heart) in everyone, regardless of their age, background, or culture. The rugged beauty of Utah's landscape calls for transcendence, a spirit of going beyond comfort and pushing the limits.
Cold Winter Session
At Stacie and Tyler's winter engagement session, this translated into enduring piercing cold, moody clouds that blocked the sun and chilly winds that came and went without a January care, speaking of impending snow.
And despite all of nature's antics, Stacie and Tyler smiled through it all.
Stacie and Tyler wanted their photos in time to make the cut for their wedding invitations. April (and Spring) seemed a long way off, but deadlines said otherwise. We knew the weather forecast called for snow in the early evening. A late morning photo shoot seemed the perfect time to sneak in a few photos before Mother Nature engaged her winter plans.
The Location
The Cove at Herriman Springs seemed a logical place to take engagement photos. The location gives lots of textural backgrounds including grass, trees, and mountains. There's even wildlife including deer and ducks (watch where you step!)
Several times we commented on how the ducks seemed to be laughing and having a great time within the confines of the pond's icy circle. Stacie and Tyler also mentioned they loved the location as it is nearby Rose Canyon where they had gone hiking a few times together.
Winter Engagement Photo Gallery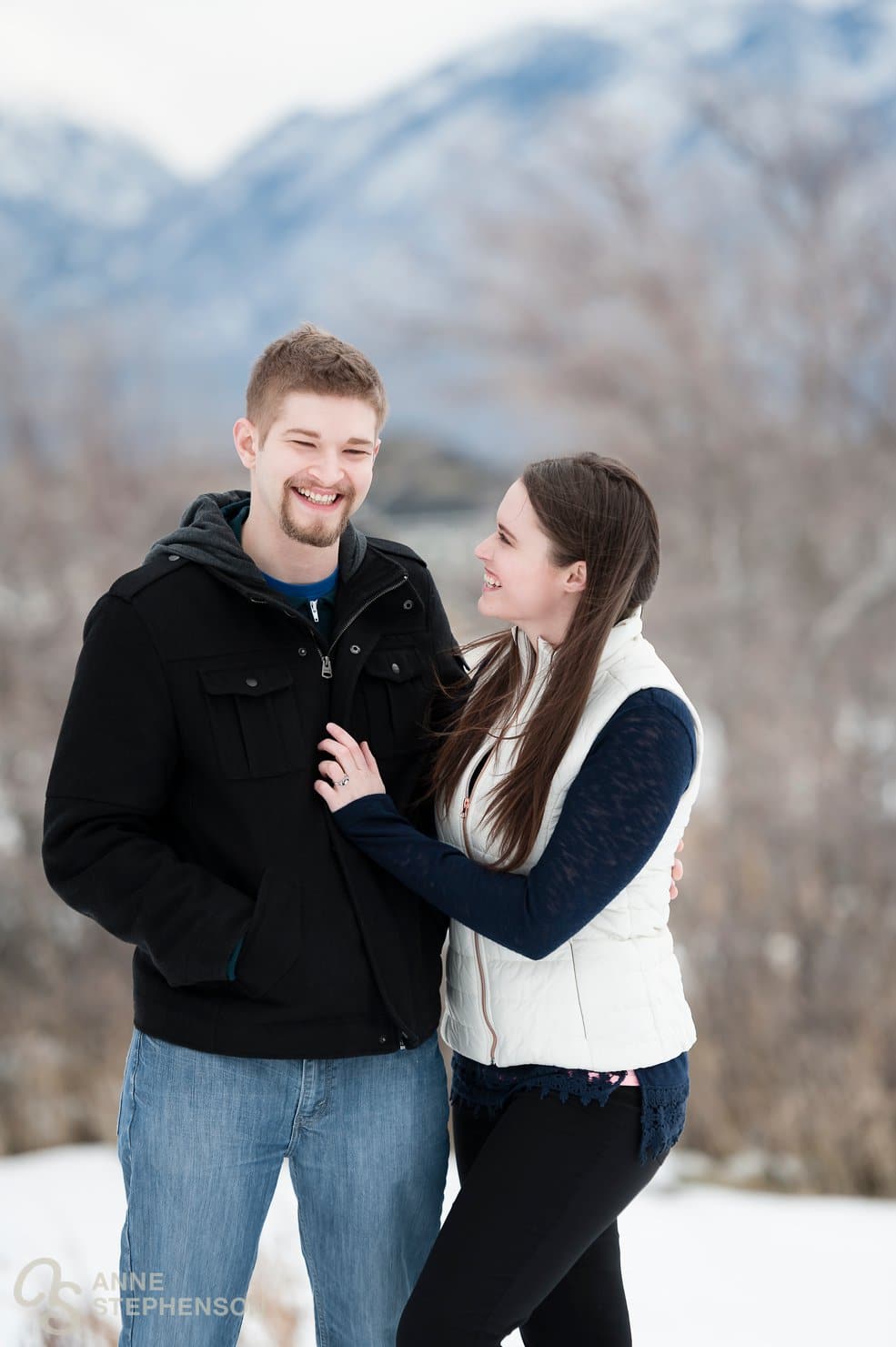 A relaxed moment during this winter engagement session. Stacie whispered something in Tyler's ear just a few minutes before I took this shot and he's still smiling. They definitely have a strong connection that you can see and feel.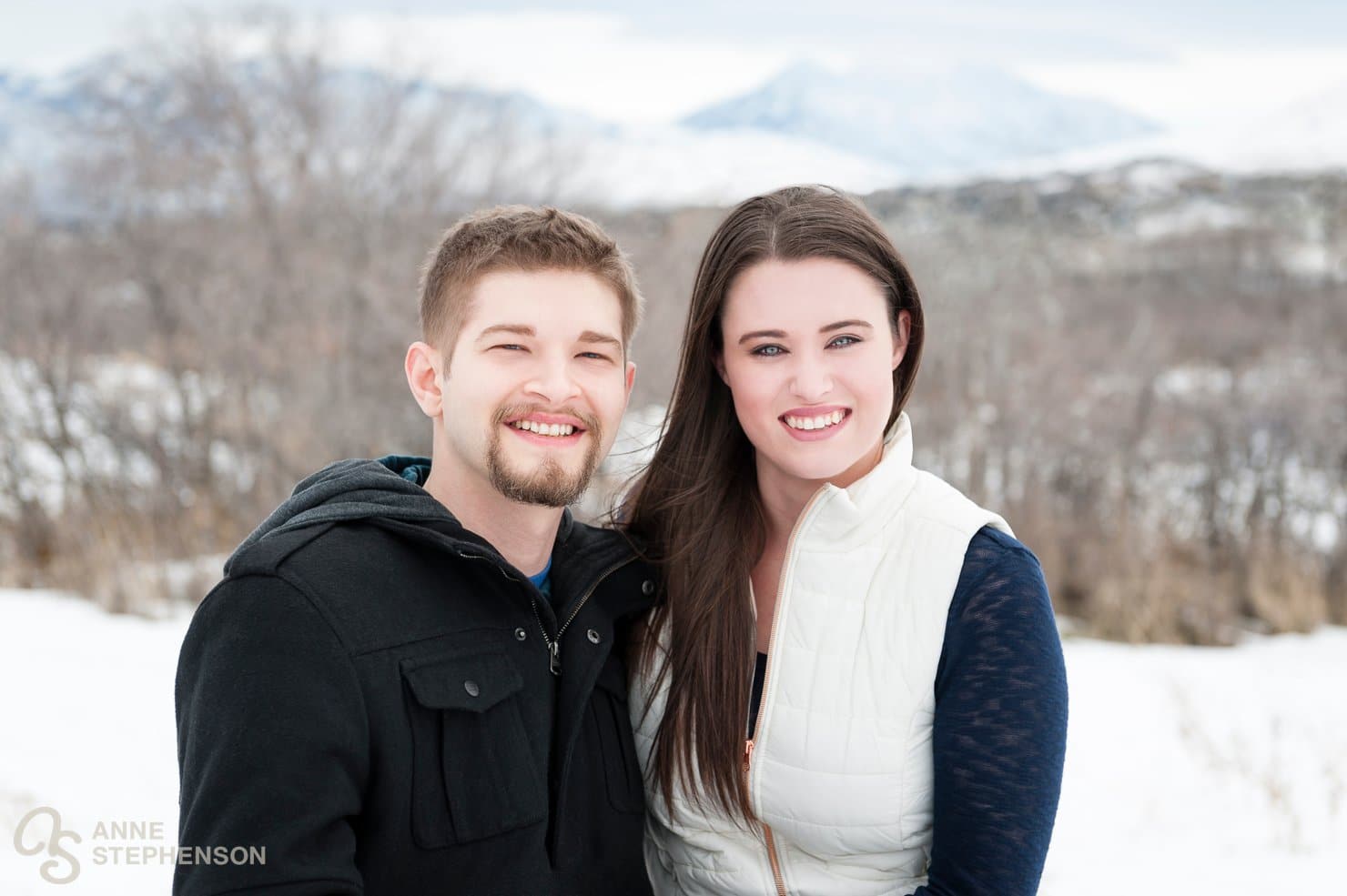 Between the bursts of wind, we captured this more traditional camera-facing photo. I love how the stormy mountains appear in the background and give some additional blue color to the scene. Stacie's wedding colors are navy, cream, and blush.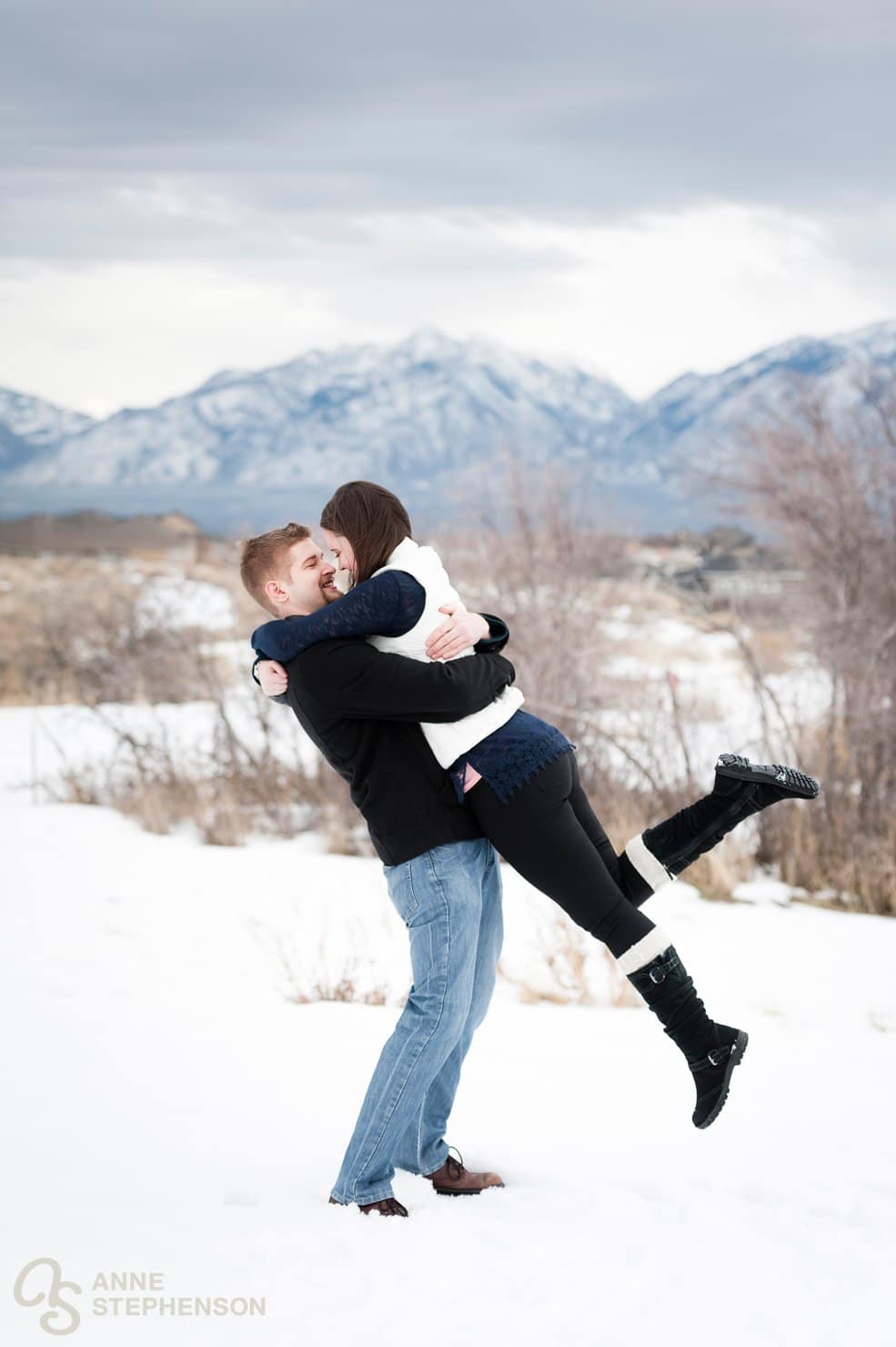 A fun moment with Tyler literally sweeping Stacie off of her feet, keeping her warm, inside and out.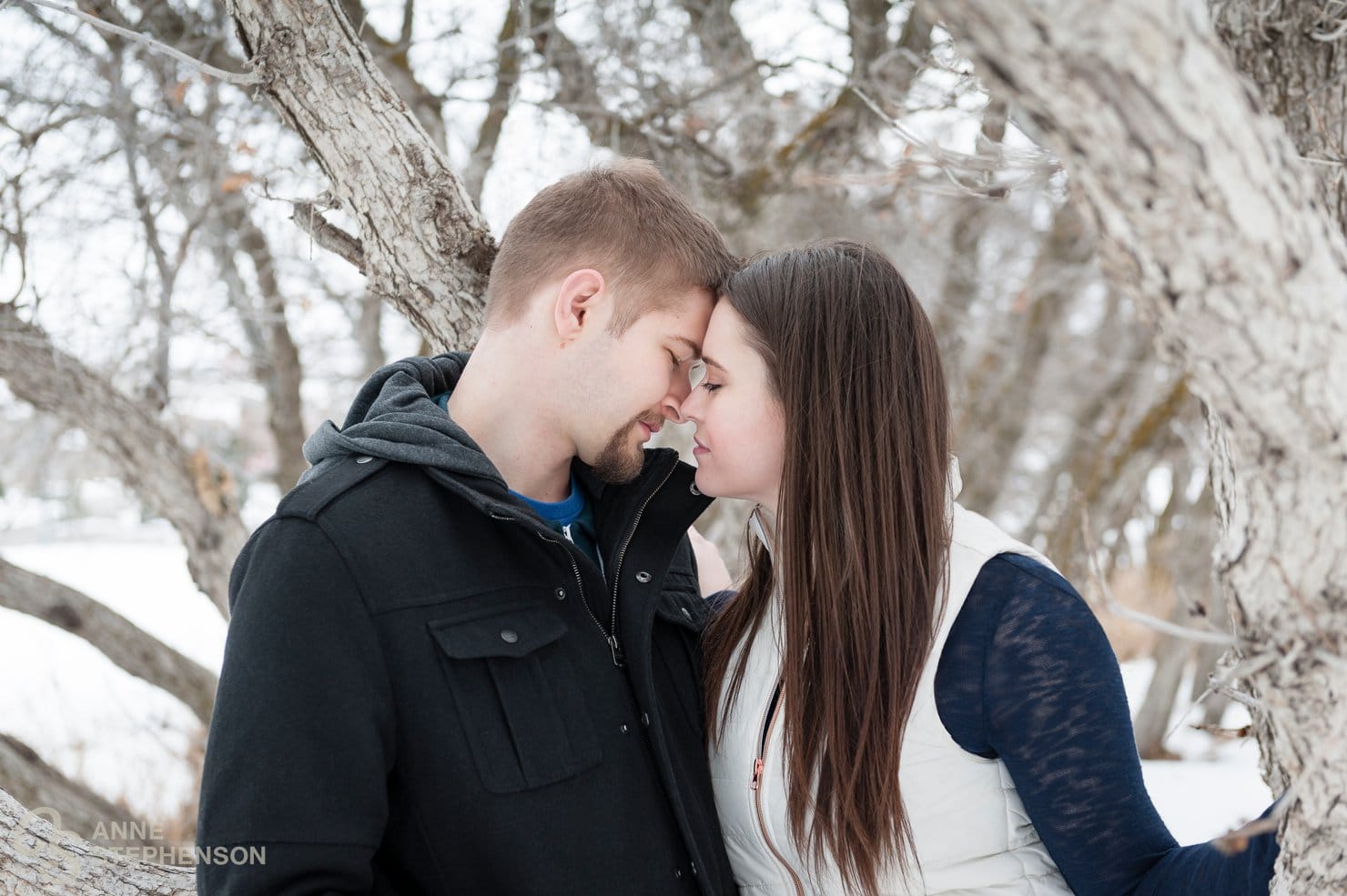 This may be the featured image at the top, but it deserves more airplay. I absolutely love Stacie and Tyler's connection. You can just feel that k-i-s-s coming on!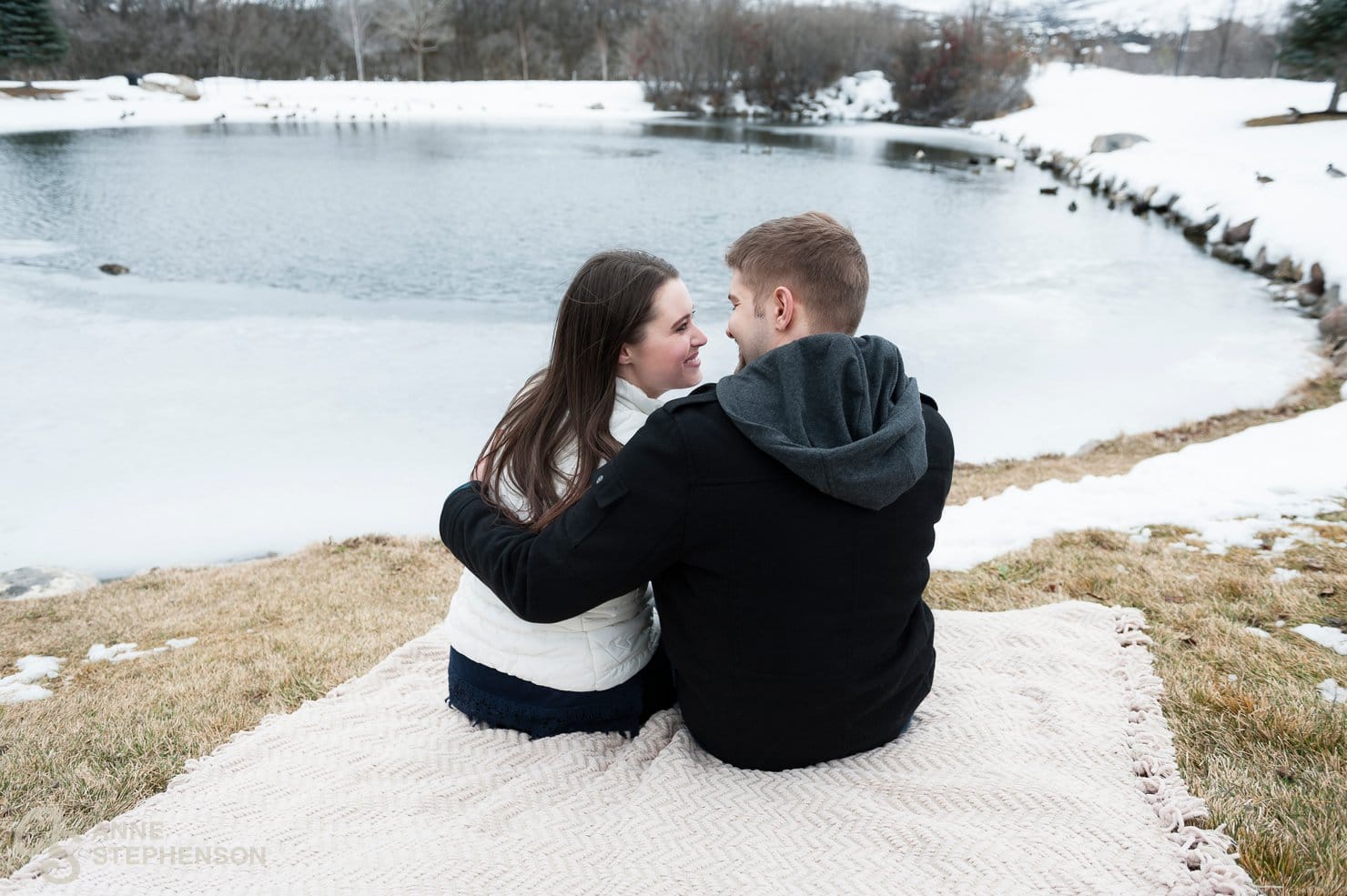 A few quiet moments at the end of the session taking in the ducks, but mostly just being together.