Makenzie + Brent: Outdoor Spring Wedding at Ashley Ridge
Their Story
Makenzie and Brent met through mutual friends in South Carolina in 2017. In early 2020 they went on their first hike and a brewery visit. Afterward, things moved quickly. They moved to Colorado together in November 2020. At their almost one-year mark of living in CO, they became engaged on the top of South Table Mountain in Golden, Colorado.
The Venue
For their wedding and reception, the couple selected Ashley Ridge located in the Denver South Metro area (Littleton), part of the Wedgewood Weddings venues. This sophisticated and elegant wedding venue facility is known for its contemporary styling along with amazing Rocky Mountain views. It made for a unique blend of modern and natural elements that created the perfect wedding backdrop.
First Look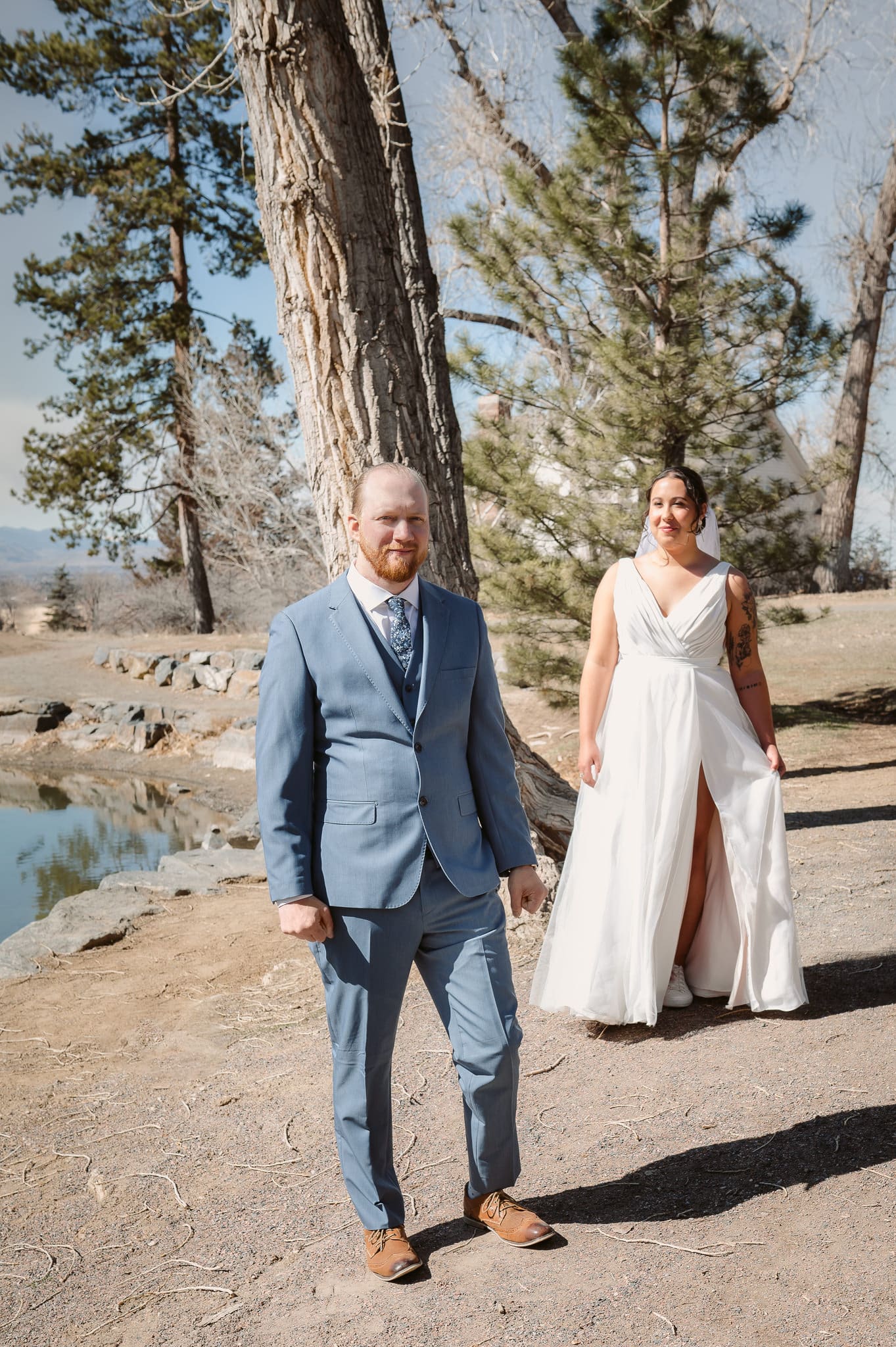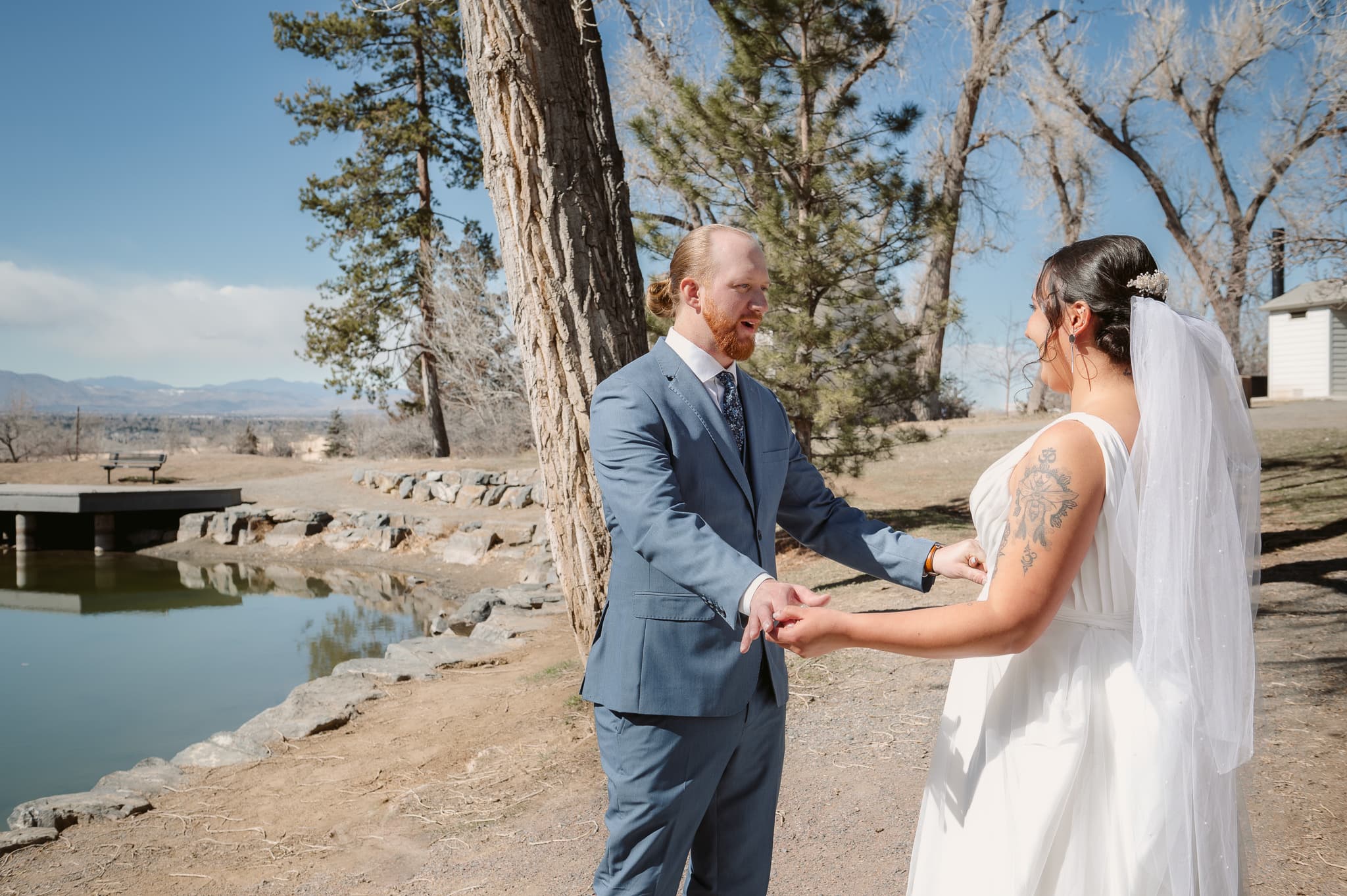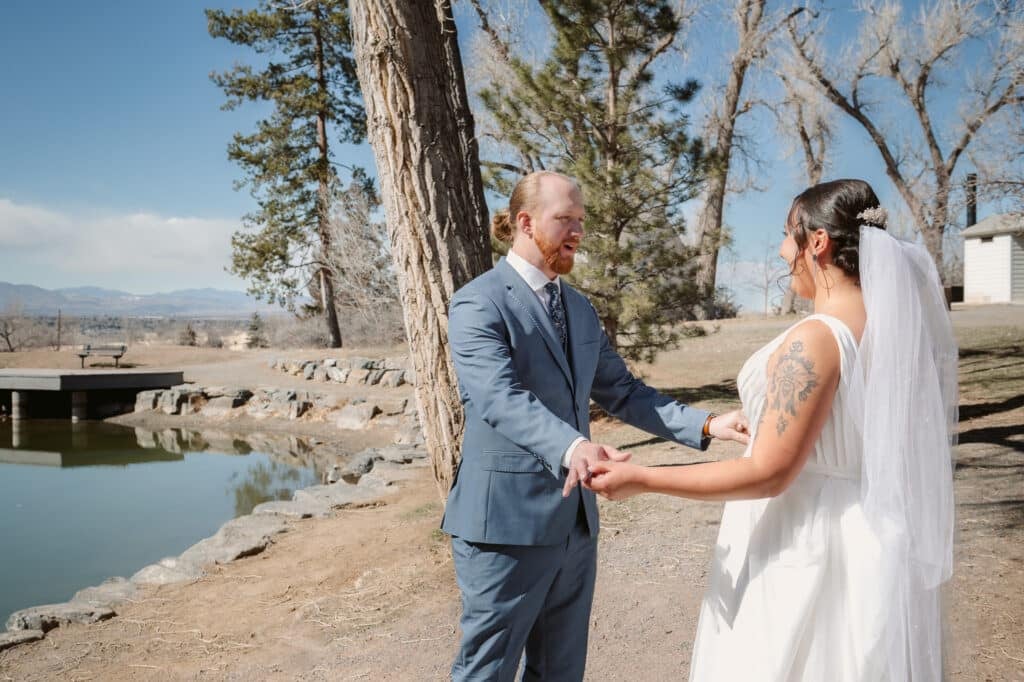 Unlike traditional weddings where the couple plans to first see each other during the ceremony, a First Look allows couples to share a special moment together and see each other for the first time in a relaxed, more private setting.
For their First Look, Makenzie and Brent met up together at Fly'n B Park located about two minutes from the venue and the Hampton Inn where they were getting ready. The park features lots of trees and a catch-and-release clear pond stocked with various fish. While they didn't go fishing, the pond, trees, and mountains provided a great backdrop for photos.
Since it was spring and had snowed the Thursday prior to the wedding, it took some doing to keep everyone dry and picture-perfect for the First Look and the balance of the day. Thanks to the assistance of friends Ali and Danny, Makenzie navigated the dirt and in some spots mud and managed to keep her dress beautiful.
Outdoor Spring Wedding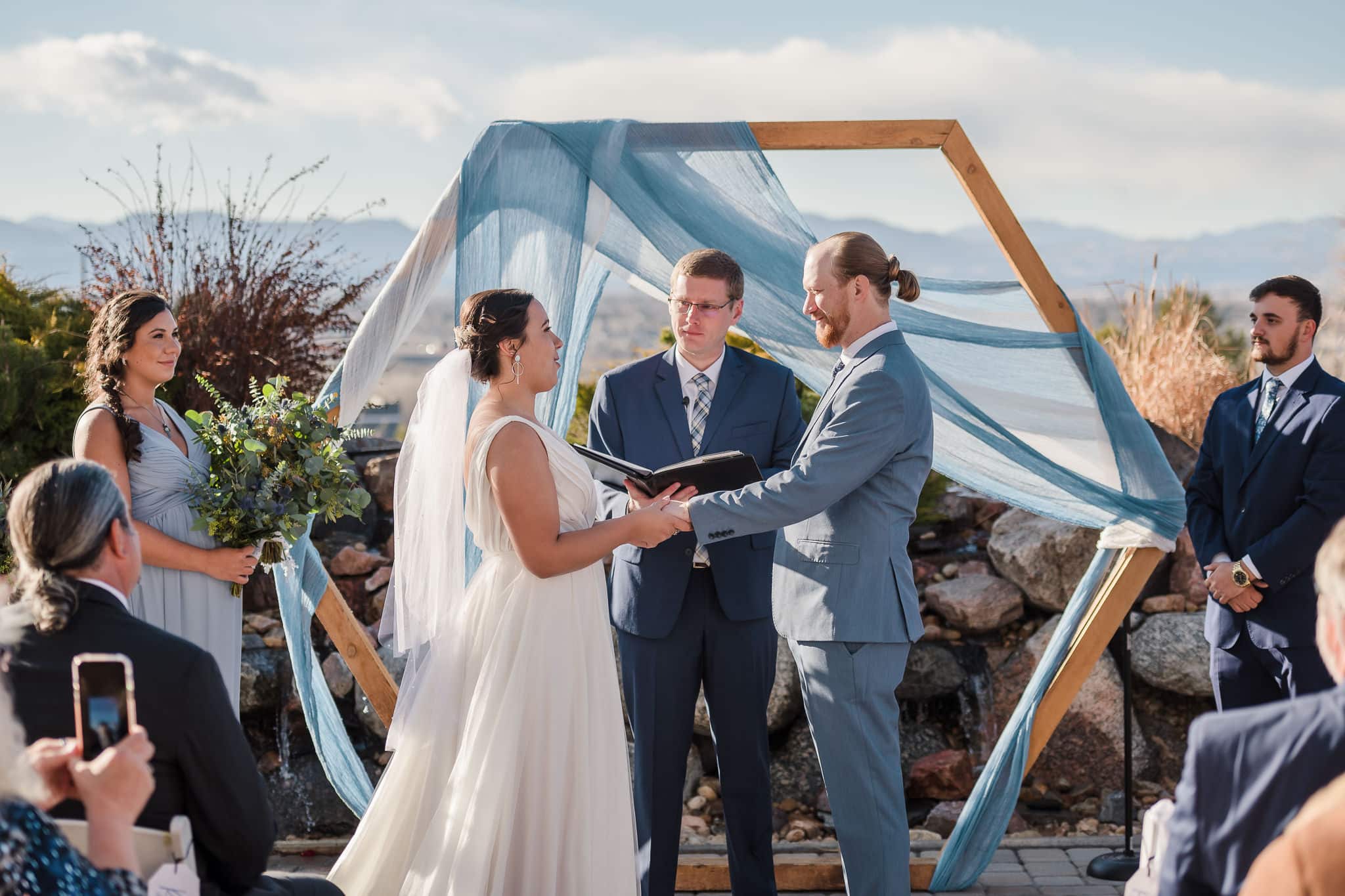 Makenzie and Brent said their 'I dos' in the outdoor ceremony area at Ashley Ridge, complete with stone accents, and a wooden ceremony arch swathed with beautiful fabric in blue tones. This complemented the wedding color scheme of dusty blue, brilliant blue, ivory, and green.
The outdoor wedding spot contained lots of late afternoon sunshine, a cool wind, and a spring temperature in the low 40s. Many guests brought wraps and extra layers to stay cozy during the ceremony.
A friend officiated the ceremony which contained greetings, readings, an exchange of personal vows, and an official introduction as Mr. and Mrs. The program concluded with a traditional first kiss and a second kiss mid-way through their departure down the aisle.
Reception Features
Corn Hole
Outside the main doors of Ashley Ridge, guests saw corn-hole beanbag toss games. One game had a Wisconsin emblem and the other South Carolina. These represented each of the home states for the bride (Wisconsin) and groom (South Carolina). Many of the 100 guests attending traveled from out of state to Colorado for the event.
Postcard Guest Book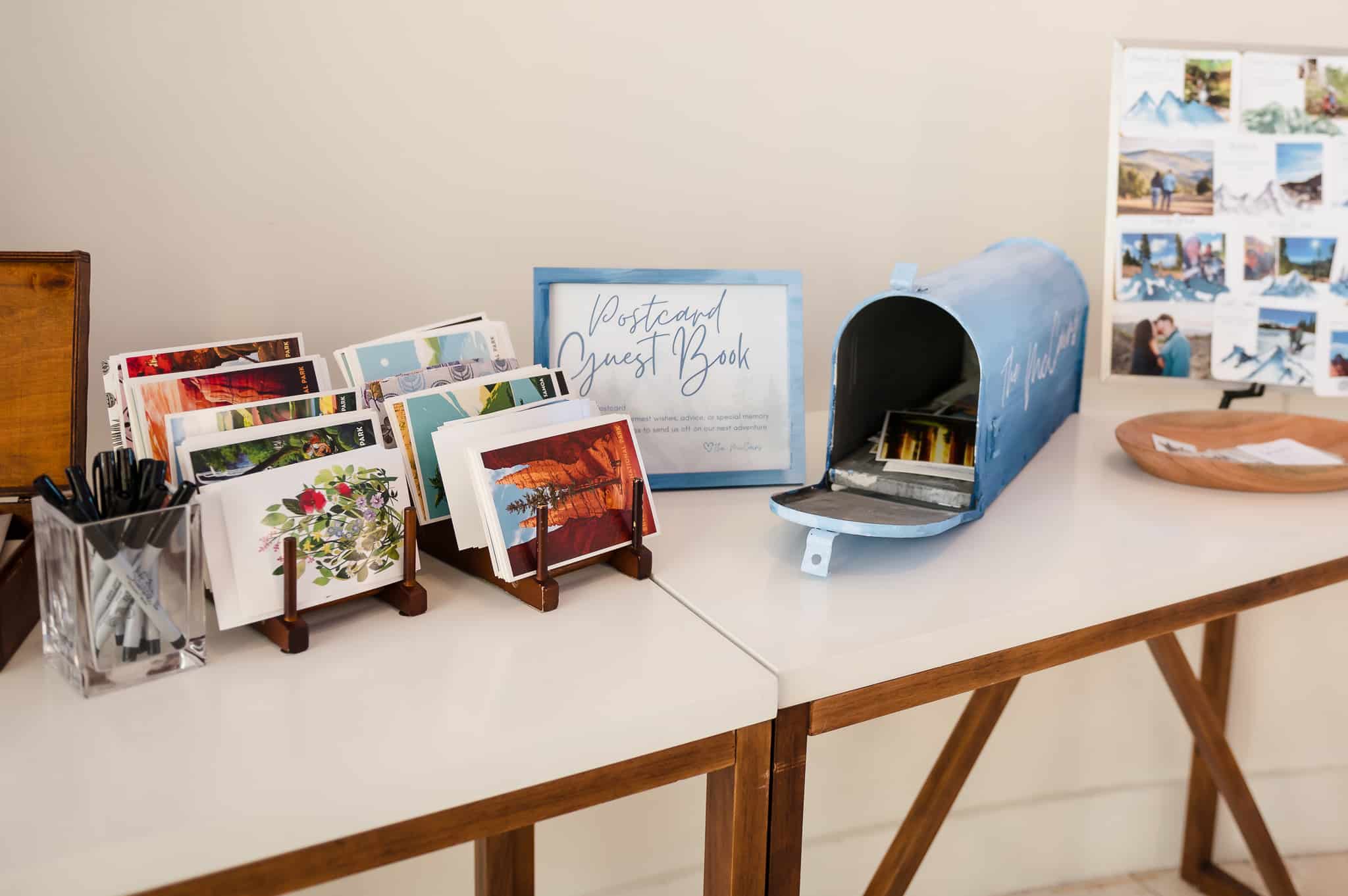 Once inside, guests could sign the "guest book" which actually consisted of a postcard station with a mailbox painted with the couple's last name. Everyone was instructed to select a postcard, sign it with warm wishes, advice, or any other special words, and place it in the mailbox. The couple would then use the cards as inspiration for their future hiking adventures.
Speaking of adventures, a bulletin board next to the mailbox contained several photographs of places where the couple had hiked. It also showed selected photos of their engagement photo session at Mount Falcon Park, west trailhead.
Party Favors
There were also cute stickers for the taking of the newlywed's dogs Mimi and George. A note explained to guests that the party favors were for "our favorite people" with a personal wish of gratitude. "Thank you for celebrating with our humans."
Self-Operated Photo Booth
The venue also had a self-serve photo booth set up along with a collection of various props for making fun photos. Following the instructions, guests stood in front of the greenery backdrop and moved into a variety of poses. The photo booth printed out two copies of the images, one for the guests and one to be left behind for the wedding newlyweds.
Elegant Dining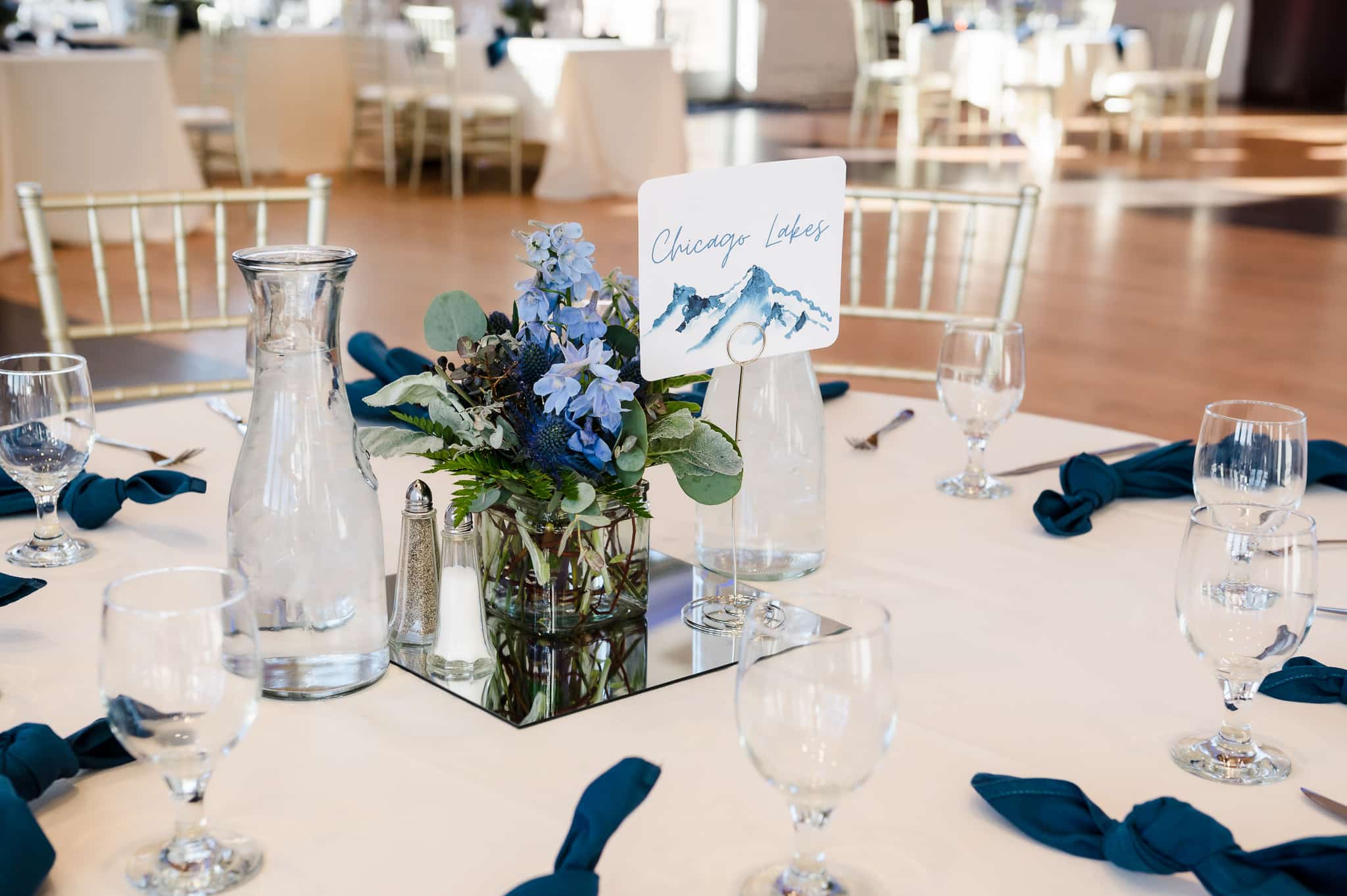 The dining and reception area carried through the mountain and adventure theme. Rather than table numbers, each round had a different featured mountain location with details and photos on the backside.
Centerpieces included light light blue delphiniums, darker deep blue thistle-style flowers, and greenery in dusty-gray sage greens complimented with warmer ferns.
A wedding party table was set up at the center of the room in front of the large picture window facing west. This provided a beautiful backdrop behind the couple as the last light of the day colored the sky as the sun set behind the mountains.
Colorful Reception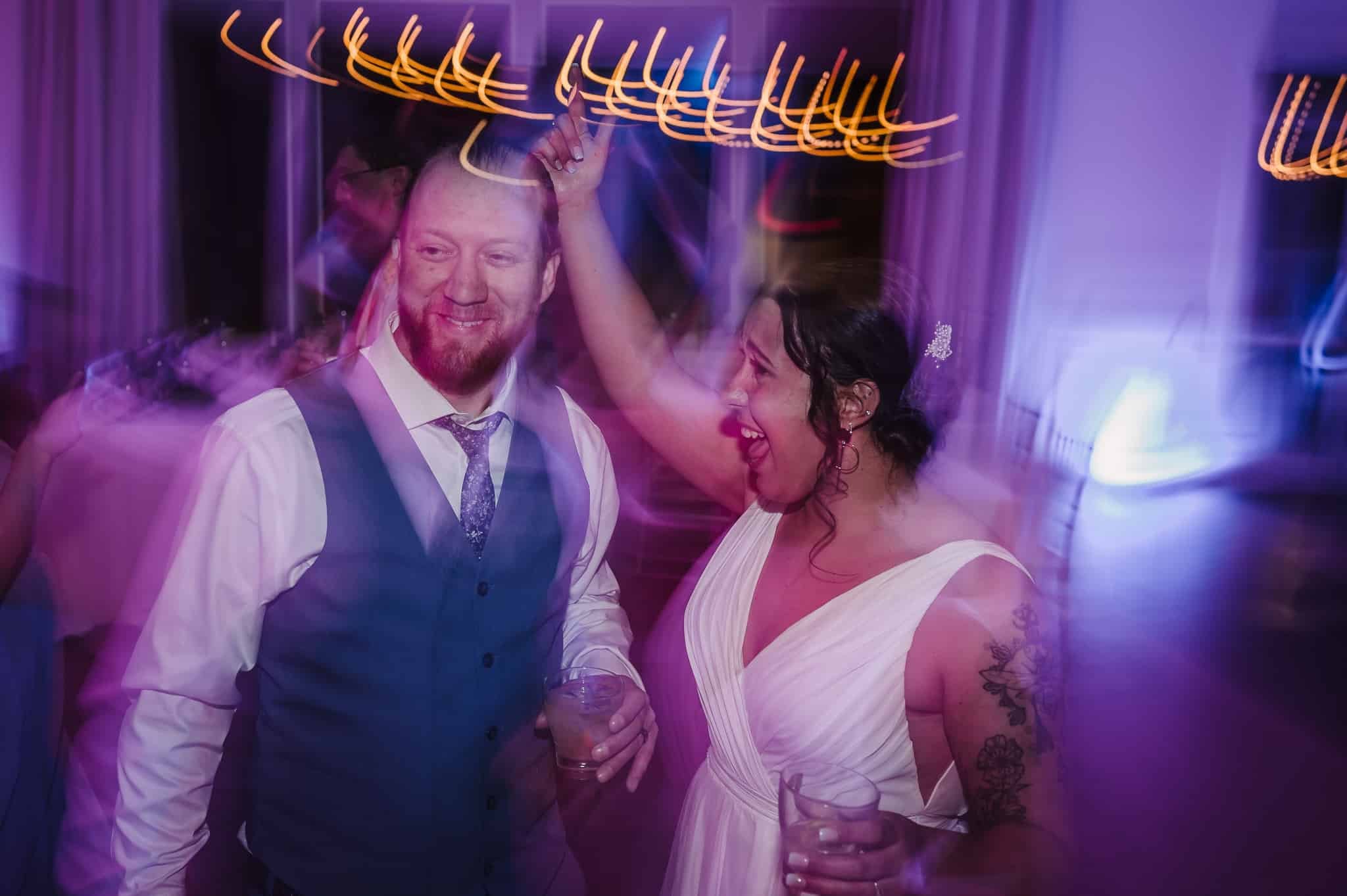 Speaking of colors, the custom lighting at Ashley Ridge transformed easily from elegant dining to a lively and fun area for a dance party.
Following the First Dance, Makenzie shared a dance with her dad, and Brent with his mother. Afterward, general dancing continued into the evening with lots of great music and additional lighting effects by DJ Maestro.
Final Words
Makenzie and Brent, I wish you many more hiking and brewery adventures together. If I could, I would gift you both a fairy godmother with an always-working GPS (just in case!) and unlimited access to Spotted Cow beer. May your days be full of love and laughter and fun times with friends and family. Prost!
Leave a Memory or Congratulatory Note
In the comments, leave a note for Makenzie and Brent with a favorite memory of the day. Also, if you were unable to attend, feel free to leave a blessing or note of congratulations!
Scroll down to the bottom of the page👇 to write your wishes in the comments section.
Details
Sneak Peek Photo Gallery